Ditemukan 11 dokumen yang sesuai dengan query
Resnick, Robert, 1923-2014, author
New York: John Wiley and Sons, 1972
530.11 RES b
Buku Teks Universitas Indonesia Library
Lightman, Alan, author
Jakarta: Kepustakaan Populer Gramedia, 2004
813.5 LIG m
Buku Teks Universitas Indonesia Library
Cooperstock, Fred I., author
This richly illustrated book is unique in bringing Einstein's relativity to a higher level for the non-specialist than has ever been attempted before, using nothing more than grade-school algebra. Bondi's approach with spacetime diagrams is simplified and expanded, clarifying the famous asymmetric aging-of-twins paradox. Einstein's theory of gravity, general relativity,...
Berlin : [Spinger-Verlag, ], 2012
e20425152
eBooks Universitas Indonesia Library
Meier, David L., author
This book begins by reviewing quasars, microquasars, and gamma-ray bursts and shows why black holes are responsible for them. It describes simple, isolated black holes, adding rotation, accretion, radiation and magnetic fields, to show how these objects work....
Berlin : [Spinger-Verlag, ], 2012
e20425015
eBooks Universitas Indonesia Library

Lightman, Alan, author
Jakarta: Kepustakaan Poluler Gramedia, 2015
813.5 LIG e
Buku Teks Universitas Indonesia Library
Costa, Giovanni, author
Symmetries, coupled with the mathematical concept of group theory, are an essential conceptual backbone in the formulation of quantum field theories capable of describing the world of elementary particles. This primer is an introduction to and survey of the underlying concepts and structures needed in order to understand and handle...
Berlin : [Spinger-Verlag, ], 2012
e20424920
eBooks Universitas Indonesia Library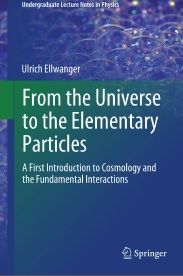 Ellwanger, Ulrich, author
In this book, the author leads the reader, step by step and without any advanced mathematics, to a clear understanding of the foundations of modern elementary particle physics and cosmology. He also addresses current and controversial questions on topics such as string theory. The book contains gentle introductions to the...
Berlin : [Spinger-Verlag, ], 2012
e20425098
eBooks Universitas Indonesia Library
Miao, Haixing, author
Recent state-of-the-art technologies in fabricating low-loss optical and mechanical components have significantly motivated the study of quantum-limited measurements with optomechanical devices. Such research is the main subject of this thesis. In the first part, the author considers various approaches for surpassing the standard quantum limit for force measurements. In the...
Berlin : [Spinger-Verlag, ], 2012
e20425165
eBooks Universitas Indonesia Library
Khalatnikov, Isaak M., author
The book is an expanded autobiography of the famous theoretical physicist Isaak Khalatnikov. He worked together with L.D. Landau at the Institute for Physical Problems lead by P.L. Kapitza. He is the co-author of L.D. Landau in a number of important works. They worked together in the frame of the...
Berlin : [Spinger-Verlag, ], 2012
e20425224
eBooks Universitas Indonesia Library
Scheck, Florian, author
The book describes Maxwell's equations first in their integral, directly testable form, then moves on to their local formulation. The first two chapters cover all essential properties of Maxwell's equations, including their symmetries and their covariance in a modern notation. Chapter 3 is devoted to Maxwell theory as a classical...
Berlin : Spinger-Verlag, 2012
e20425053
eBooks Universitas Indonesia Library