Ditemukan 13652 dokumen yang sesuai dengan query
Costa, Giovanni, author
Symmetries, coupled with the mathematical concept of group theory, are an essential conceptual backbone in the formulation of quantum field theories capable of describing the world of elementary particles. This primer is an introduction to and survey of the underlying concepts and structures needed in order to understand and handle...
Berlin : [Spinger-Verlag, ], 2012
e20424920
eBooks Universitas Indonesia Library
Novozhilov, IU. V. (IUrii Viktorovich), author
Oxford: Pergamon Press, 1975
539.721 NOV i (1)
Buku Teks Universitas Indonesia Library
Hajime, Ishimori, author
These lecture notes provide a tutorial review of non-Abelian discrete groups and show some applications to issues in physics where discrete symmetries constitute an important principle for model building in particle physics. While Abelian discrete symmetries are often imposed in order to control couplings for particle physics, in particular...
Berlin : [Spinger-Verlag, ], 2012
e20425303
eBooks Universitas Indonesia Library
Kikoin, Konstantin, author
The aim of the present monograph is to illuminate more subtle aspects featuring group theory for quantum mechanics, that is, the concept of dynamical symmetry....
Wien: Spinger-Verlag, 2012
e20405844
eBooks Universitas Indonesia Library
Martin, A.D., author
Amsterdam: North-Holland, 1970
530.1 MAR e
Buku Teks Universitas Indonesia Library
This well-known introductory textbook gives a uniform presentation of nuclear and particle physics from an experimental point of view. The first part, Analysis, is devoted to disentangling the substructure of matter. This part shows that experiments designed to uncover the substructures of nuclei and nucleons have a similar conceptual basis, and...
Berlin: Springer-Verlag, 2015
e20510025
eBooks Universitas Indonesia Library
Cheng, David C.
London: Addison-Wesley , 1979
539.721 CHE e (1)
Buku Teks Universitas Indonesia Library
Braibant, Sylvie, author
The book provides theoretical and phenomenological insights on the structure of matter, presenting concepts and features of elementary particle physics and fundamental aspects of nuclear physics. Starting with the basics (nomenclature, classification, acceleration techniques, detection of elementary particles), the properties of fundamental interactions (electromagnetic, weak and strong) are introduced with a...
Dordrecht: [Spinger Science, ], 2012
e20424907
eBooks Universitas Indonesia Library
Ario Sunar Baskoro, author
This paper proposes a study on the comparison of particle swarm optimization with genetic algorithm for molten pool detection in fixed aluminum pipe welding. The research was conducted for welding of aluminum alloy Al6063S-T6 with a controlled welding speed and a Charge-couple Device (CCD) camera as vision sensor. Omnivision-based monitoring...
Fakultas Teknik Universitas Indonesia, 2011
AJ-Pdf
Artikel Jurnal Universitas Indonesia Library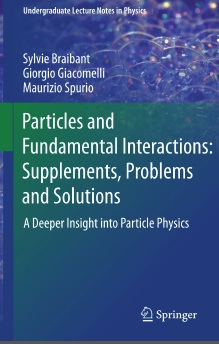 This volume is an exercises and solutions manual that complements the book "Particles and Fundamental Interactions" by Sylvie Braibant, Giorgio Giacomelli, and Maurizio Spurio. It aims to give additional intellectual stimulation for students in experimental particle physics. It will be a helpful companion in the preparation of a...
Dordrecht: Spinger Science, 2012
e20424908
eBooks Universitas Indonesia Library