Ditemukan 25 dokumen yang sesuai dengan query
The Routledge Handbook of Japanese Media is a comprehensive study of the key contemporary issues and scholarly discussions around Japanese media. Covering a wide variety of forms and types from newspapers, television and fi lm, to music, manga and social media, this book examines the role of the media in...
London: Routledge, 2017
e20529290
eBooks Universitas Indonesia Library
With recent changes in social and political landscapes around the world the focus of preventive counter-terrorism has shifted in many places from government to civil society. The contributors analyze the different approaches of Civil Society Organizations in preventing and countering violent extremism in various countries in South and Southeast Asia. The...
London: Routledge, 2021
e20529044
eBooks Universitas Indonesia Library
Shekhar, Vibhanshu, author
This book examines the changes in Indonesian foreign policy during the 21st century as it seeks to position itself as a great power in the Indo-Pacific region. The rise of 21st-century Indonesia is becoming a permanent fixture in both the domestic and global discourses. Though there has been an increasing level...
London: Routledge, 2018
e20529234
eBooks Universitas Indonesia Library
At a time when Southeast Asian Studies is declining in North America and Europe, this book serves to remind us of the fresh, constructive and encouraging view of the field from Asia. On behalf of Taiwan's Southeast Asian research community, I sincerely congratulate Professors Park and King for making such...
Singapore: Institute of South East Asia Studies, 2013
e20442293
eBooks Universitas Indonesia Library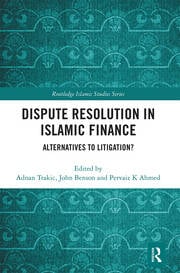 Dispute Resolution in Islamic Finance addresses how best to handle disputes within Islamic finance. It examines how they can be resolved in a less confrontational manner and ensure such disagreements are settled in a just and fair way. There has been little focus on how disputes within Islamic finance are resolved....
New York: Routledge, 2019
e20529116
eBooks Universitas Indonesia Library
Bateman, Sam, author
The need for freedoms of navigation in regional waters is frequently mentioned in statements from regional forums, but a common understanding of what constitutes a particular freedom of navigation or the relevant law is lacking. This book discusses how law, politics and strategy intersect to provide different perspectives of freedoms on...
London: Routledge, 2020
e20529120
eBooks Universitas Indonesia Library
Choudhury, Masudul Alam, 1948-, author
The fields of morality and ethics have been left out significantly from socio-scientific study in general and in economics and finance in particular. Yet this book argues that in this age of post-modernist analytical inquiry, the study of morality and ethics is an epistemological requirement. This book illustrates the delimiting...
London: Routledge, 2017
e20529173
eBooks Universitas Indonesia Library
This handbook explores the ways in which Islam, as one of the fastest growing religions, has become a global faith for both Muslims and non-Muslims in Southeast Asia with its universality, inclusivity, and shared features with other Islamic expressions and manifestations. It offers an up-to-date, wide-ranging, comprehensive, concise, and readable...
London: Routledge, 2022
e20529287
eBooks Universitas Indonesia Library
Curaming, Rommel A., author
[Place of publication not identified]: ISEAS/BUFS, 2018
327 SUV 10:2 (2018)
Artikel Jurnal Universitas Indonesia Library
Janus Isaac Nolasco, author
ISEAS/BUFS, 2018
327 SUV 10:2 (2018)
Artikel Jurnal Universitas Indonesia Library