Ditemukan 8 dokumen yang sesuai dengan query
Ziarnik, Natalie Reif, author
In this revolutionary new book, expert liaison Natalie Reif Ziarnik draws on well-known children's literature and defining moments in history to expose the untapped potential that exists between schools and libraries...
Chicago: American Library Association, 2003
e20436229
eBooks Universitas Indonesia Library
Rozana Ahlamia, auhtor
Penelitian ini membahas mengenai kepuasan siswa terhadap layanan perpustakaan di SMA Islam Al-Azhar 4. Tujuan penelitian ini adalah mengetahui tingkat kepuasan siswa terhadap layanan perpustakaan SMA Al-Azhar yang meliputi 5 dimensi SERVQUAL dan mengidentifikasi kendala apa saja yang ditemui dalam pelaksanaan perpustakaan. Penelitian ini menggunakan pendekatan kuantitatif dengan metode survei....
Depok: Fakultas Ilmu Pengetahuan Budaya Universitas Indonesia, 2015
S61262
UI - Skripsi (Membership) Universitas Indonesia Library
Byrd, Patricia, author
Englewood Cliffs: Prentice-Hall, 1981
R 025.5677 BYR g
Buku Referensi Universitas Indonesia Library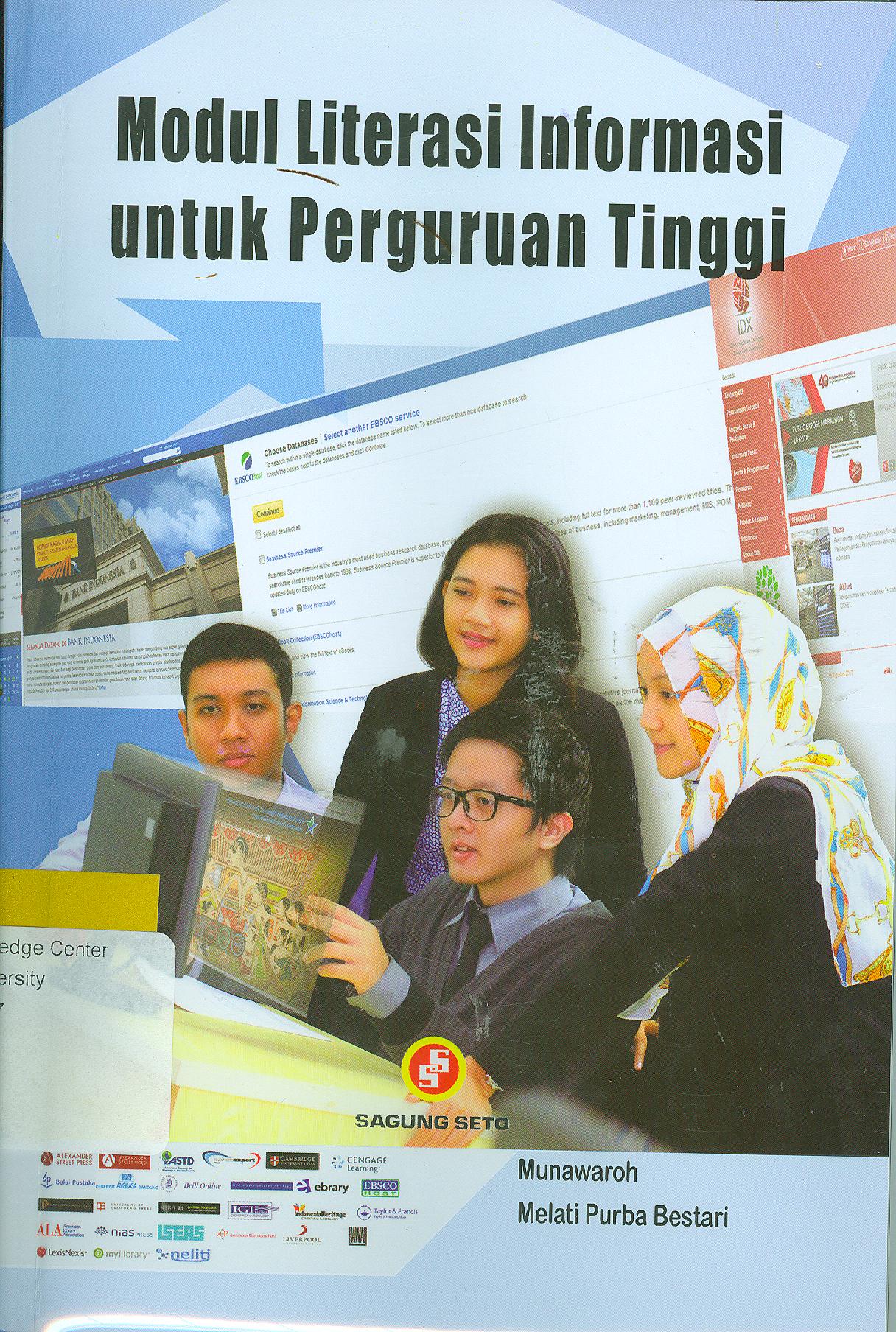 Munawaroh, author
Jakarta: Sagung Seto, 2017
025.52 MUN m
Buku Teks Universitas Indonesia Library
Academic libraries have continually looked for technological solutions to low circulation statistics, under-usage by students and faculty, and what is perceived as a crisis in relevance, seeing themselves in competition with Google and Wikipedia. Academic libraries, however, are as relevant as they have been historically, as their primary functions within...
Oxford, UK: Chandos, 2014
e20427650
eBooks Universitas Indonesia Library
Mathews, Brian, author
In Marketing Today?s Academic Library, Brian Mathews uses his vast experience to speak directly to the academic library practitioner about matching services with user needs. This book proposes new visions and ideas, challenging the traditional way of thinking and providing a framework to target users more precisely...
Chicago: [American Management Association, ], 2009
e20437631
eBooks Universitas Indonesia Library
Badke, William B., 1949-, author
With the information provided here, writing research papers does not have to be frustrating or boring. It is possible to develop significant skills in order to make the writing process much easier, and the author explains the skills and strategies you need to efficiently and effectively complete a research project...
Bloomington, IN: iUniverse, 2014
020.72 BAD r
Buku Teks Universitas Indonesia Library
Pennsylvania: International Association of School Librarianship, 2004
027.807 2 FRO
Buku Teks Universitas Indonesia Library