Ditemukan 9 dokumen yang sesuai dengan query
Buchanan, James M., author
Indianapolis: Liberty Fund, 2000
R 320.01 BUC c
Buku Referensi Universitas Indonesia Library Buchanan, James M., author
Indianapolis: Liberty Fund, Inc., 2001
R 320.01 BUC c (XVI)
Buku Referensi Universitas Indonesia Library
Arrow, Kenneth J., author
New York: John Wiley and Sons, 1951
302.13 ARR s
Buku Teks Universitas Indonesia Library
Buchanan, James M., author
Indianapolis: Liberty Fund, Inc., 1999
R 320.01 BUC c (VI)
Buku Referensi Universitas Indonesia Library
Buchanan, James M., author
Indianapolis: Liberty Fund, Inc., 2003
R 320.01 BUC c (XI)
Buku Referensi Universitas Indonesia Library
Buchanan, James M., author
Indianapolis: Liberty Fund, Inc., 2000
R 320.01 BUC c (XIV)
Buku Referensi Universitas Indonesia Library
Buchanan, James M., author
Indianapolis: Liberty Fund, Inc., 2001
R 320.01 BUC c (XIX)
Buku Referensi Universitas Indonesia Library
Day, William H.E., author
Bioconsensus is a rapidly evolving scientific field in which consensus methods, often developed for use in social choice theory, are adapted for such areas of the biological sciences as taxonomy, systematics, and evolutionary and molecular biology. Typically, after several alternatives are produced using different data sets, methods or algorithms, one...
Philadelphia : Society for Industrial and Applied Mathematics, 2003
e20443021
eBooks Universitas Indonesia Library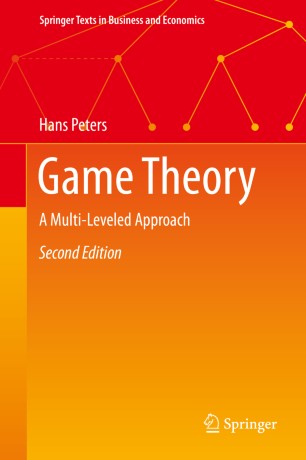 Peters, Hans, author
This textbook presents the basics of game theory both on an undergraduate level and on a more advanced mathematical level. It is the second, revised version of the successful 2008 edition. The book covers most topics of interest in game theory, including cooperative game theory. Part I presents introductions to...
Berlin: Springer-Verlag , 2015
e20509991
eBooks Universitas Indonesia Library