Ditemukan 22 dokumen yang sesuai dengan query
Eisberg, Robert
New York: John Wiley & Sons, 1974
530.12 EIS q
Buku Teks Universitas Indonesia Library
Gasiorowicz, Stephen, author
New York: John Wiley & Sons, 1996
530.12 GAS q
Buku Teks Universitas Indonesia Library
Glimm, James, author
New York: Springer-Verlag, 1981
530.12 GLI q
Buku Teks Universitas Indonesia Library
Wichmann, Eyvind H., author
New York: McGraw-Hill, 1971
530.12 WIC q
Buku Teks Universitas Indonesia Library
Stehle, Philip, author
New York: Oxford University Press, 1994
530.12 STE o
Buku Teks Universitas Indonesia Library
Dick, Rainer, author
This book is a textbook which emphasizes the importance of advanced quantum mechanics for materials science and all experimental techniques which employ photon absorption, emission, or scattering. Important aspects of introductory quantum mechanics are covered in the first seven chapters to make the subject self-contained and accessible for a wide...
New York: [Springer, ], 2012
e20425290
eBooks Universitas Indonesia Library
Plotnitsky, Arkady, author
This book offers a discussion of Niels Bohr's conception of "complementarity," arguably his greatest contribution to physics and philosophy. By tracing Bohr's work from his 1913 atomic theory to the introduction and then refinement of the idea of complementarity, and by explicating different meanings of "complementarity" in Bohr and the...
New York: Springer, 2013
e20424805
eBooks Universitas Indonesia Library
Schieck, Hans Paetz gen, author
A significant part of the book is devoted to introducing the formal theory—a description of polarization and of nuclear reactions with polarized particles. The remainder of the text describes the physical basis of methods and devices necessary to perform experiments with polarized particles and to measure polarization and polarization effects...
Berlin : [Springer, ], 2012
e20425005
eBooks Universitas Indonesia Library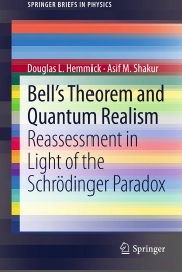 Hemmick, Douglas L., author
Quantum theory presents a strange picture of the world, offering no real account of physical properties apart from observation. Neils Bohr felt that this reflected a core truth of nature: "There is no quantum world. There is only an abstract mathematical description." Among the most significant developments since Bohr's day...
Heidelberg : Springer, 2012
e20425018
eBooks Universitas Indonesia Library
Combescure, Monique, author
This book presents the various types of coherent states introduced and studied in the physics and mathematics literature and describes their properties together with application to quantum physics problems. It is intended to serve as a compendium on coherent states and their applications for physicists and mathematicians, stretching from the...
Dordrecht: [Springer, ], 2012
e20425049
eBooks Universitas Indonesia Library