Ditemukan 8 dokumen yang sesuai dengan query Ozin, Geoffrey A., author
Cambridge, UK: Royal Society of Chemistry , 2009
620.5 OZI n
Buku Teks Universitas Indonesia Library
Sheka, Elena, author
London: CRC Press Taylor &Francis Group, 2010
620.5 SHE f
Buku Teks Universitas Indonesia Library
Leite, Edson Roberto, author
Crystallization and growth of colloidal nanocrystals provides a current understanding of the mechanisms related to nucleation and growth for use in controlling nanocrystal morphology and physical-chemical properties...
New York: [, Springer], 2012
e20418346
eBooks Universitas Indonesia Library
Dimitrios P. Nikolelis, editor
The aim of this book is to focus on research related to the rapid detection of agents and weapons of bioterrorism and provide a comprehensive review of the research topics most pertinent to advancing devices applicable to the rapid real-time detection of toxicants such as microbes, pathogens, toxins, or nerve...
Dordrecht, Netherlands: [, Springer], 2012
e20417535
eBooks Universitas Indonesia Library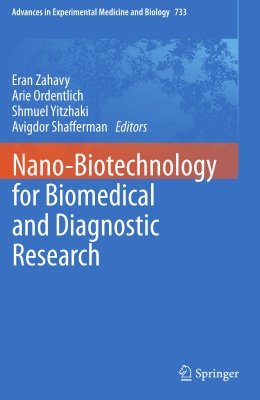 This book explores current research on nanomaterials in imaging and biological research, nanomaterials as a biosensing tool, DNA nanotechnology, nanomaterials for drug delivery, medicinal and therapeutic application and cytotoxicity of nanomaterials...
Dordrecht: Springer, 2012
e20417850
eBooks Universitas Indonesia Library
Joachim, Christian, editor
This volume documents the first International Workshop on Atomic Scale Interconnection Machines organised by the European Integrated Project AtMol in June 2011 in Singapore. The four sessions, discussed here in revised contributions by high level speakers, span the subjects of multi-probe UHV instrumentation, atomic scale nano-material nanowires characterization, atomic scale...
Berlin : [Springer, ], 2012
e20425039
eBooks Universitas Indonesia Library
This book presents an overview of the ways in which the latest experimental and theoretical nanotechnologies are serving the fields of biotechnology, medicine, and biomaterials. They not only enhance the efficiency of common therapeutics and lower their risks, but thanks to their specific properties, they also provide new capabilities. Nano-scale...
Switzerland: Springer Nature, 2019
e20509291
eBooks Universitas Indonesia Library
This book highlights the theoretical foundations of and experimental techniques in photothermal heating and applications involving nanoscale heat generation using gold nanostructures embedded in various media. The experimental techniques presented involve a combination of nanothermometers doped with rare-earth atoms, plasmonic heaters and near-field microscopy. The theoretical foundations are based on...
Singapore: Springer Nature, 2019
e20509363
eBooks Universitas Indonesia Library