Ditemukan 5 dokumen yang sesuai dengan query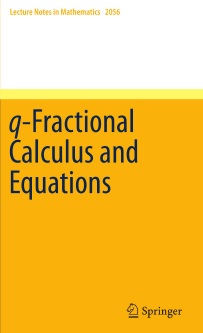 Annaby, Mahmoud H., author
Introduces a rigorous investigation of q-difference operators in standard and fractional settings. This monograph also discusses some integral equations of Volterra and Abel type, as introductory material for the study of fractional q-calculi...
Berlin: [Spinger-Verlag, ], 2012
e20419842
eBooks Universitas Indonesia Library
Combescure, Monique, author
This book presents the various types of coherent states introduced and studied in the physics and mathematics literature and describes their properties together with application to quantum physics problems. It is intended to serve as a compendium on coherent states and their applications for physicists and mathematicians, stretching from the...
Dordrecht: [Spinger Science, ], 2012
e20425049
eBooks Universitas Indonesia Library
Chaichian, Masud, author
During the last 20-25 years, classical mechanics has undergone an important revival associated with the progress in non-linear dynamics, applications of Noether's theorem and the extension of variational principles in various interdisciplinary sciences (for instance, magnetofluid dynamics). Thus, there ought to exist a book concerned with the applied analytical formalism,...
Berlin: [Springer-Verlag, ], 2012
e20425375
eBooks Universitas Indonesia Library
Chirikjian, Gregory S., author
The emphasis in both of these volumes is on the use of stochastic, geometric, and group-theoretic concepts in the modeling of physical phenomena. Volume 2 builds on the fundamentals presented in Volume 1, delving deeper into relationships among stochastic geometry, geometric aspects of the theory of communications and coding, multivariate...
New York: [Springer Science, ], 2012
e20419587
eBooks Universitas Indonesia Library
Scheck, Florian, author
The book describes Maxwell's equations first in their integral, directly testable form, then moves on to their local formulation. The first two chapters cover all essential properties of Maxwell's equations, including their symmetries and their covariance in a modern notation. Chapter 3 is devoted to Maxwell theory as a classical...
Berlin : Spinger-Verlag, 2012
e20425053
eBooks Universitas Indonesia Library