Ditemukan 11 dokumen yang sesuai dengan query
Corty, Eric W., author
Missouri: Mosby Elsevier, 2007
519.5 COR u
Buku Teks Universitas Indonesia Library
Reib, Katharina
TuÌ?bingen : M. Niemeyer, 1991
418.02 REI g (1)
Buku Teks Universitas Indonesia Library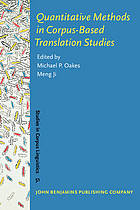 Amsterdam: John Benjamins Publishing Co, 2012
418.020 7 QUA
Buku Teks Universitas Indonesia Library
Raffel, Burton, author
Hague: Mouton, 1971
418.02 RAF f
Buku Teks Universitas Indonesia Library
Lang, Margaret, author
London: Routledge, 2001
445 LAN i
Buku Teks Universitas Indonesia Library
Lang, Margaret, author
London: Routledge, 2001
445 LAN i
Buku Teks Universitas Indonesia Library
Hale, Sandra, author
Summary: A groundbreaking guide to research methods in interpreting, full of questions and examples...
London: Bloomsbury, 2013
418.020 HAL r
Buku Teks Universitas Indonesia Library
Summary: Covers a selection of peer-reviewed papers from the 1st International Conference on Fictional Translators and Interpreters in Literature and Film (held at the University of Vienna, Austria in 2011) and links literary and cinematic works of translation fiction to state-of-the-art translation theory and practice...
Amsterdam : John Benjamins , 2014
418.043 TRA
Buku Teks Universitas Indonesia Library
Yi, Chong-in, 1954-, author
Soul-si : Chulgoun Sangsang, 2009
KOR 495.780 2 YIC p (1)
Buku Teks Universitas Indonesia Library Andy Omara, author

ABSTRAK
One of the duties of the Indonesian Constitutional Court (Mahkamah Konstitusi - MK) is to determine whether legislation is consistent with the Constitution. If the MK determines that a statute is inconsistent with the Constitution, it declares that such statute is invalid. In such instance, the MK has the final...
Depok: University of Indonesia, Faculty of Law, 2019
340 UI-ILR 7:2 (2017)
Artikel Jurnal Universitas Indonesia Library