Ditemukan 6 dokumen yang sesuai dengan query
Baltimore: Johns Hopkins University Press, 1979
973.9 NEW
Buku Teks Universitas Indonesia Library
Whatmore, Richard, author
Cambridge, England ; Malden, Massachusetts: Polity, 2016
001 WHA w
Buku Teks Universitas Indonesia Library
Marshall, Peter, author
"Peter Hall's seminal Cities of Tomorrow remains an unrivalled account of the history of planning in theory and practice, as well as of the social and economic problems and opportunities that gave rise to it. Now comprehensively revised, the fourth edition offers a perceptive, critical, and global history of urban...
Oxford, UK: Wiley-Blackwell, 2014
307.120 904 HAL c
Buku Teks Universitas Indonesia Library
Khaled El-Rouayheb, author
For much of the twentieth century, the intellectual life of the Ottoman and Arabic-Islamic world in the seventeenth century was ignored or mischaracterized by historians. Ottomanists typically saw the seventeenth century as marking the end of Ottoman cultural florescence, while modern Arab nationalist historians tended to see it as yet...
New York: Cambridge University Press, 2015
e20528853
eBooks Universitas Indonesia Library
Priemel, Kim Christian, author
At the end of world war II the allies faced a threefold challenge: how to punish perpetrators of appalling crimes for which the categories of genocide and crimes against humanity had to be coined; how to explain that these had been committed by Germany, of all nations; and how to...
Oxford: Oxford University Press, 2016
e20469960
eBooks Universitas Indonesia Library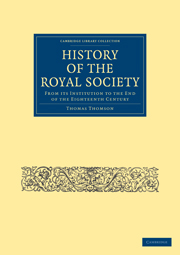 Thomson, Thomas, author
The Royal Society has been dedicated to scientific inquiry since the seventeenth century. In 1811, Thomas Thomson (1773–1852), a pioneering chemistry teacher who was elected a fellow of the society in the same year, undertook the project of writing a history of the organisation's illustrious past. In this book, published...
New York: Cambridge University Press, 2012
e20528836
eBooks Universitas Indonesia Library