Ditemukan 225 dokumen yang sesuai dengan query
Herod, Andrew, author
New York: Willey Black well, 2009
303.482 HER g
Buku Teks Universitas Indonesia Library
Giddens, Anthony, author
London: Profile , 2002
306.2 GID r
Buku Teks Universitas Indonesia Library
Snow, Donald M., author
New York: Pearson Longman, 2007
355.033 SNO n
Buku Teks Universitas Indonesia Library
Caselli, Marco
The aim of this book is to conduct a critical survey of the main tools devised for the synthetic measurement of globalization processes. To this end, the first part of the book discusses the meaning of the concept considered, highlighting the different and often contradictory interpretations put forward in its...
Dordrecht, Netherlands: Springer, 2012
e20401263
eBooks Universitas Indonesia Library
New York: Routledge, 2006
330.951 06 GLO
Buku Teks Universitas Indonesia Library
Lane, Jan-Erik, author
Hampshire: Ashgate, 2006
337.1 LAN g
Buku Teks Universitas Indonesia Library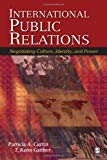 Curtin, Patricia A. (Patricia Ann), 1955-, author
This work offers an innovative critical approach to international public relations theory and practice. It presents the cultural-economic model of international public relations practice, a model that describes and explains public relations techniques and practices in a variety of regulatory, political and cultural climate...
London: Sage Publications, 2007
659.2 CUR i
Buku Teks Universitas Indonesia Library
Jakarta: Kompas, 2006
327.51 CER
Buku Teks Universitas Indonesia Library Andi Widjajanto, author
In an increasingly globalized world, terrorism can no longer be viewed as an isolated threat. Therefore, as argued in this article, realists' understanding is no longer sufficient in addressing the which terrorism poses to the international community. A new framework of security 'needs to be built, one which reflects the...
2003
GJPI-5-2-Mei2003-37
Artikel Jurnal Universitas Indonesia Library
Sklair, Leslie, author
Oxford: Oxford University Press, 2002
337 SKL g
Buku Teks Universitas Indonesia Library