Ditemukan 51 dokumen yang sesuai dengan query
Lawler, John M.; Dry, Helen Aristar
London: Routledge, 1998
410.285 USI;410.285 USI (2)
Buku Teks Universitas Indonesia Library
Berlin: Walter de Gruyter, 1989
R 410.285 COM
Buku Referensi Universitas Indonesia Library
Cimiano, Philipp, author
New York: Springer, 2006
006.331 CIM o
Buku Teks Universitas Indonesia Library
Hove, East Sussex, UK: Psychology Press, 1997
413.028 COG
Buku Teks Universitas Indonesia Library
Kondo, Kazuhiro, author
This practical hands-on book shows speech intelligibility measurement methods so that the readers can start measuring or estimating speech intelligibility of their own system. The book also introduces subjective and objective speech quality measures, and describes in detail speech intelligibility measurement methods. It introduces a diagnostic rhyme test which uses...
Berlin: [, Spinger-Verlag], 2012
e20398888
eBooks Universitas Indonesia Library
Mason. Oliver
Edinburgh: Edinburgh University Press, 2000
410.285 MAS p
Buku Teks Universitas Indonesia Library
Hammond, Michael, 1956-, author
Oxford, UK: Blackwell , 2002
410.285 HAM p
Buku Teks Universitas Indonesia Library
Ovchinnikova, Ekaterina, author
This book concerns non-linguistic knowledge required to perform computational natural language understanding (NLU). The main objective of the book is to show that inference-based NLU has the potential for practical large scale applications. First, an introduction to research areas relevant for NLU is given....
Paris: Atlantis Press, 2012
e20406540
eBooks Universitas Indonesia Library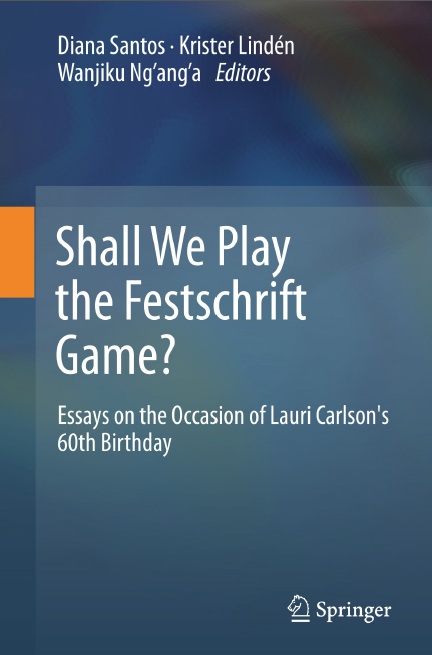 Diana Santos, editor
His insight and acute linguistic sensitivity and linguistic rationality have spawned findings and research work in many areas, from non-standard etymology to hardcore formal linguistics, not forgetting computational areas such as parsing, terminological databases, and, last but not least, machine translation. In addition to his renowned and widely acknowledged insights...
Berlin: [, Springer-Verlag], 2012
e20409181
eBooks Universitas Indonesia Library
Rao, K. Sreenivasa, author
Predicting prosody from text for text-to-speech synthesis covers the specific aspects of prosody, mainly focusing on how to predict the prosodic information from linguistic text, and then how to exploit the predicted prosodic knowledge for various speech applications. Author K. Sreenivasa Rao discusses proposed methods along with state-of-the-art techniques for...
New York: Spinger Science, 2012
e20418380
eBooks Universitas Indonesia Library