Ditemukan 36 dokumen yang sesuai dengan query
Ginzburg, V.L., author
Oxford: Pergamon Press, 1979
523.01 GIN t
Buku Teks Universitas Indonesia Library
New York: The New York Academy of Sciences, 1991
500 TEX
Buku Teks Universitas Indonesia Library
Ehrlich, Robert, author
New Brunswick, New Jersey: Rutgers University, 1993
530 EHR c
Buku Teks Universitas Indonesia Library
Galván-Madrid, Roberto J., author
This thesis presents results of Submillimeter Array (SMA) and Very Large Array (VLA) studies of massive star formation regions in the early stages of ionization, as well as an analysis of numerical simulations of the evolution of these young HII regions. The results favor a picture in which very massive...
New York: [Springer, ], 2012
e20424989
eBooks Universitas Indonesia Library
Reddy, Francis
The book is organized by ease of observation, lunar phases and the brighter planets come first, while solar eclipses, the aurora, and comets come later. Celestial Delights also includes a hefty dose of sky lore, astronomical history, and clear overviews of current science. It provides a handy reference to upcoming...
New York: [Springer, ], 2012
e20425043
eBooks Universitas Indonesia Library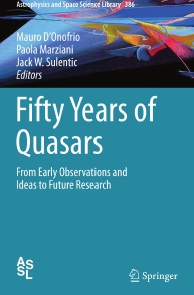 D'Onofrio, Mauro, editor
This book deals with the historical development of quasar research and discusses how advances in instrumentation and computational capabilities have benefitted quasar astronomy and have changed our basic understanding of quasars. In the last part of the book the interviews address the current topic of the role of quasars in...
Berlin : [Springer, ], 2012
e20425182
eBooks Universitas Indonesia Library
Auping, John, author
Oxford: AESOP Publications, 2018
523.01 AUP c
Buku Teks Universitas Indonesia Library
Lena, Pierre, author
This textbook focuses on fundamental and sometimes practical limitations on the ultimate performance that an astronomical system may reach, rather than presenting particular systems in detail. In little more than a decade there has been extraordinary progress in imaging and detection technologies, in the fields of adaptive optics, optical interferometry,...
Berlin : [Springer, ], 2012
e20424999
eBooks Universitas Indonesia Library
Leubner, Manfred P., editor
This book presents the proceedings of the International Astrophysics Forum Alpbach 2011. The contributions discuss the latest advances in the exploration of dynamical behavior in space plasmas environments, including comprehensive approaches to theoretical, experimental and numerical aspects. The book will appeal to researchers and students in the fields of physics,...
Berlin : [Springer, ], 2012
e20425278
eBooks Universitas Indonesia Library
Matzner, Richard A., author
New Jersey: Prentice-Hall, 1991
531 MAT c
Buku Teks Universitas Indonesia Library