Ditemukan 15 dokumen yang sesuai dengan query Dieudonne, Jean, author
Paris: Hermann, 1969
512.897 DIE l (1)
Buku Teks Universitas Indonesia Library
Sernesi, E.
London: Chapman & Hall, 1993
512.55 SER l
Buku Teks Universitas Indonesia Library New York: Harper & Row, 1965
511 ARI
Buku Teks Universitas Indonesia Library
Hirst, Ann, author
London: Prentice-Hall, 2001
512.12 HIR b
Buku Teks Universitas Indonesia Library
Arapura, Donu, author
This book provides a rapid introduction to complex algebraic geometry. It covers sheaf theory, cohomology, some Hodge theory, as well as some of the more algebraic aspects of algebraic geometry. It combines the study of algebraic geometry with differential and complex geometry and unifies these subjects using sheaf-theoretic ideas...
New York: Springer Science, 2012
e20418978
eBooks Universitas Indonesia Library
Andreescu, Titu, author
This book contains a stimulating collection of problems in geometry and trigonometry, algebra, number theory, and combinatorics. The problems are clustered by topic into three self-contained chapters. The book begins with elementary facts, followed by carefully selected problems and detailed, step-by-step solutions, which then lead to more complicated, challenging problems...
New York: Spinger Science, 2011
e20419014
eBooks Universitas Indonesia Library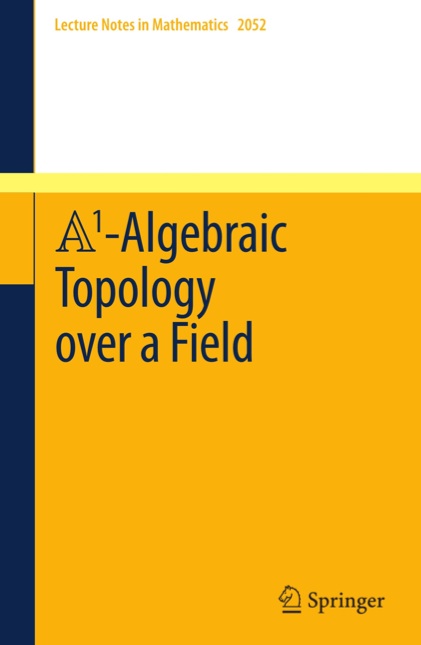 Morel, Fabien, author
This text deals with A1-homotopy theory over a base field, i.e., with the natural homotopy theory associated to the category of smooth varieties over a field in which the affine line is imposed to be contractible. It is a natural sequel to the foundational paper on A1-homotopy theory written together...
New York: [, Springer-Verlag], 2012
e20418920
eBooks Universitas Indonesia Library
This book gives an elementary treatment of the basic material about graph spectra, both for ordinary, and laplace and seidel spectra. The text progresses systematically, by covering standard topics before presenting some new material on trees, strongly regular graphs, two-graphs, association schemes, p-ranks of configurations and similar topics. Exercises at...
New York: [Springer, ], 2012
e20419499
eBooks Universitas Indonesia Library
Marubayashi, Hidetoshi, author
Aims at uniting maximal orders, valuation rings, Dubrovin valuations, and more in a common theory, the theory of primes of algebras. This title also establishes possible applications of the noncommutative arithmetics to interesting classes of algebra...
Berlin: [Spinger-Verlag, ], 2012
e20419887
eBooks Universitas Indonesia Library
Stix, Jakob, editor
This book acknowledges the varied incarnations of the fundemental group, pro-finite, L-adic, p-adic, pro-algebraic and motivic. It explores a weaelth of topics that range from anabelian geometry (in particular the section conjecture), the L-adic polylogarithm, gonality questions of mudular curves, vector bundles in connection with monodromy, and relative pro-algebraic completions,...
Berlin: Spinger-Verlag, 2012
e20420582
eBooks Universitas Indonesia Library