Ditemukan 89 dokumen yang sesuai dengan query
Ash, Robert B., author
New York: Academic Press, 1975
519.2 ASH t
Buku Teks Universitas Indonesia Library
Coleman, Rodney
London: George Allen and Unwin, 1974
519 COL s
Buku Teks Universitas Indonesia Library
Narayan Bhat, U., author
New York: John Wiley and Sons, 1972
519.2 NAR e
Buku Teks Universitas Indonesia Library
Wetzell, A.D., author
New York : McGraw-Hill, 1981
519.23 WEN c
Buku Teks Universitas Indonesia Library
Doob, Joseph L., author
New York: John Wiley and Sons, 1953
519.2 DOO s
Buku Teks Universitas Indonesia Library Srinavasan, S.K.
New Delhi: Tata McGraw-Hill, 1988
519.2 SRI s
Buku Teks Universitas Indonesia Library
Bhattacharya, Rabi N., author
This book develops systematically and rigorously, yet in an expository and lively manner, the evolution of general random processes and their large time properties such as transience, recurrence, and convergence to steady states. The emphasis is on the most important classes of these processes from the viewpoint of theory as...
Philadelphia: Society for Industrial and Applied Mathematics, 2009
e20443273
eBooks Universitas Indonesia Library
Paul, Wolfgang
Berlin: Springer, 1999
519.2 PAU s
Buku Teks Universitas Indonesia Library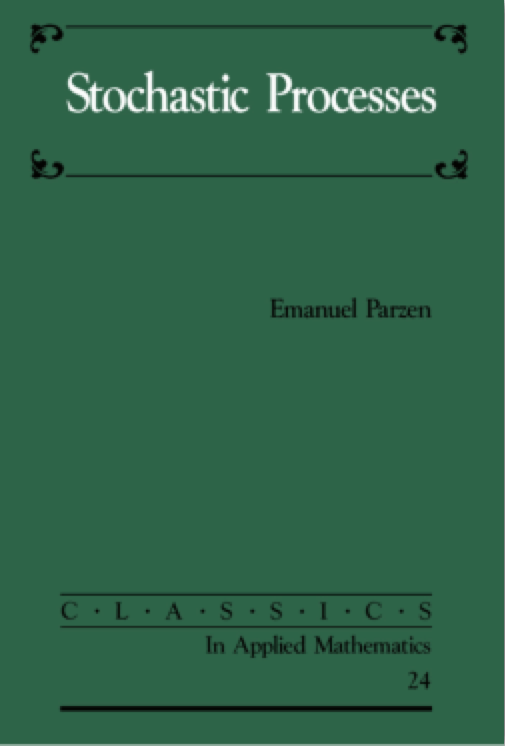 Parzen, Emanuel, 1929- , author
This introductory textbook explains how and why probability models are applied to scientific fields such as medicine, biology, physics, oceanography, economics, and psychology to solve problems about stochastic processes. It does not just show how a problem is solved but explains why by formulating questions and first steps in the...
Philadelphia: Society for Industrial and Applied Mathematics, 1999
e20450875
eBooks Universitas Indonesia Library
Nelson, Barry L., author
New York: McGraw-Hill Book , 1995
003.76 NEL s
Buku Teks Universitas Indonesia Library