Ditemukan 23 dokumen yang sesuai dengan query

[Over the last fi fty years, language policy has developed into a major discipline, drawing on research and practice in many nations and at many levels. This is the fi rst Handbook to deal with language policy as a whole and is a complete 'state-of-the-fi eld' survey, covering language practices, beliefs about...
Cambridge, UK: [Cambridge University Press, ], 2012
e20393666
eBooks Universitas Indonesia Library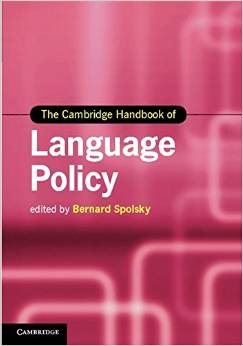 Cambridge, UK: Cambridge University Press, 2012
306.449 CAM
Buku Teks Universitas Indonesia Library
Asim Gunarwan, author
This paper reports on the results of a survey conducted with a view towards finding out why words coined or introduced by the Indonesian National Center of Language Development are readily, half-readily or not readily accepted by the target speech community as exemplified by the words mantan ("former";) anda ("you")...
Depok: Lembaga Penelitian Universitas Indonesia, 1995
LP-pdf
UI - Laporan Penelitian Universitas Indonesia Library
Clevedon: Buffalo : Multilingual Matters, 2005
306.44 DEC (1)
Buku Teks Universitas Indonesia Library
Schiffman, Harold F., author
London: Routledge, 1996
410 SCH l
Buku Teks Universitas Indonesia Library
Jakarta : Wedatama Widya Sastra , 2002
419 IND
Buku Teks Universitas Indonesia Library
Baker, Sidney J.
Sydney : Currawong Publishing, 1966
427.94 BAK a
Buku Teks Universitas Indonesia Library
[Penelitian ini membahas penggunaan bahasa Rusia di Uzbekistan pasca-Uni Soviet berkaitan dengan politik dan perencanaan bahasa di Uzbekistan. Penelitian ini merupakan penelitian yang menggunakan metode deskriptif analitis, dengan mengumpulkan data dari undang-undang, dan hasil survey dari beberapa lembaga survey, lalu dianalisis dengan teori-teori politik dan perencanaan bahasa bahasa. Bukti-bukti...
Fakultas Ilmu Pengetahuan Budaya Universitas Indonesia, 2013
S47562
UI - Skripsi (Membership) Universitas Indonesia Library
Language policy is an issue of critical importance in the world today. In this up-to-date introduction, Bernard Spolsky explores many debates at the forefront of language policy: ideas of correctness and bad language, bilingualism and multilingualism, language death and efforts to preserve endangered languages, language choice as a human and...
Cambridge, UK: Cambridge University Press, 2004
e20374219
eBooks Universitas Indonesia Library
Shohamy, Elana, author
London: Routledge, 2006, 2006
306.449 SHO l
Buku Teks Universitas Indonesia Library