Ditemukan 12 dokumen yang sesuai dengan query
Gilb, Tom
New York: Addison-Wesley, 1988
005.1 GIL p
Buku Teks Universitas Indonesia Library
Johnson, James R., author
Wellesley: QED Information Sciences, 1991
005.1 JOH s
Buku Teks Universitas Indonesia Library
Marciniak, John J., author
New York: Wiley, 1990
005.1 MAR s
Buku Teks Universitas Indonesia Library
Rakos, John J., 1946-, author
Englewood Cliffs, NJ: Prentice-Hall, 1990
005.1 RAK s
Buku Teks Universitas Indonesia Library
Bennatan, E.M. (Edwin M.), author (edit)
NewYork N.Y.: John Wiley & Sons, 1995
005.106 8 BEN o
Buku Teks Universitas Indonesia Library
Gutbrod, Roger, author
[The complexity of software is continuously growing as a result of today's interconnected business processes. Governance of architecture and technology strategy helps to ensure coherence of software and avoid excessive complexity. At the same time software development needs room for creativity and empowerment to provide solutions to business problems of...
Berlin : [Springer, Springer], 2012
e20397548
eBooks Universitas Indonesia Library
Tondo, Clovis L., author
Englewood Cliffs, NJ: Prentice-Hall, 1992
005.1 TON m
Buku Teks Universitas Indonesia Library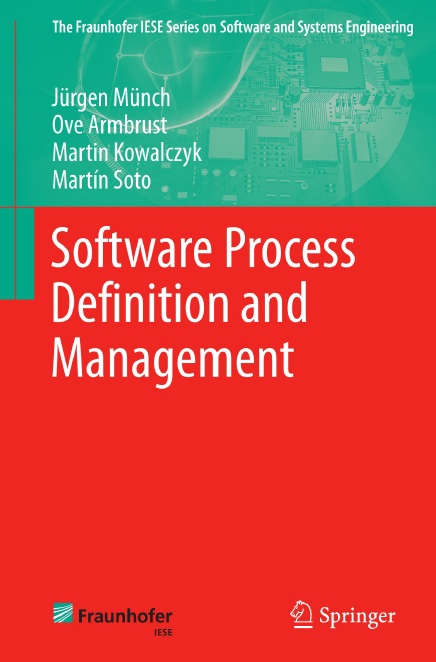 Jurgen Munch, author
Münch and his co-authors aim at providing knowledge that enables readers to develop useful process models that are suitable for their own purposes. They start with the basic concepts. Subsequently, existing representative process models are introduced, followed by a description of how to create individual models and the necessary means...
Berlin: Springer-Verlag, 2012
e20407805
eBooks Universitas Indonesia Library
Weinberg, Gerald M., author
New York: Dorest House Publishing, 1993
005.1 WEI q I
Buku Teks Universitas Indonesia Library

Grimm, Christine, author
[Christine Grimm presents a first-hand account of a social researcher who entered the software laboratory of one of the biggest ERP providers. Presenting an in-depth ethnography on how people act within such labs. she reveals the highly unexpected social character of programming and shows how the vendor reorganizes himself to...
Wiesbaden: [Springer, ], 2012
e20397078
eBooks Universitas Indonesia Library