Ditemukan 1718 dokumen yang sesuai dengan query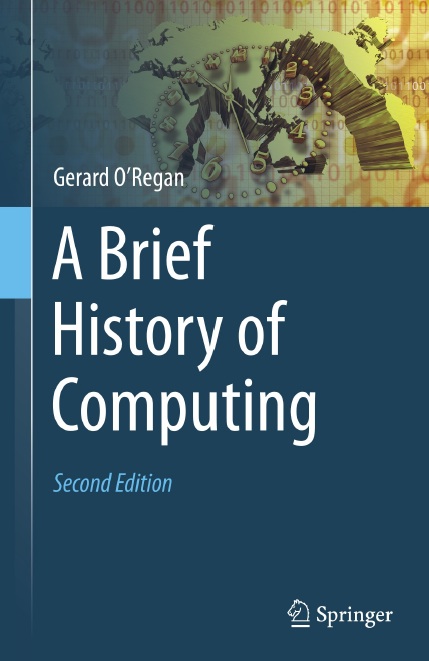 O'Regan, Gerard, author
Topics and features, offering many pedagogical features such as chapter-opening key topics, chapter introductions and summaries, exercises, and a glossary. Presents detailed information on major figures in computing, such as Boole, Babbage, Shannon, Turing, Zuse and Von Neumann. Reviews the history of software engineering and of programming languages, including syntax...
London: Springer, 2012
e20406296
eBooks Universitas Indonesia Library
Ivan Ivanov, editor
The cloud computing and services science book comprises a collection of the best papers presented at the International Conference on Cloud Computing and Services Science (CLOSER), which was held in The Netherlands in May 2011. In netting papers from the conference researchers and experts from all over the world explore...
New York: Springer , 2012
e20406357
eBooks Universitas Indonesia Library
Ismail Khalil, editor
The goal of this book is to provide a state the art of trustworthy ubiquitous computing to address recent research results and to present and discuss the ideas, theories, technologies, systems, tools, applications and experiences on all theoretical and practical issues...
Paris: Atlantis Press, 2012
e20406536
eBooks Universitas Indonesia Library
Makinson, David, author
This easy-to-follow textbook introduces the mathematical language, knowledge and problem-solving skills that undergraduates need to study computing. The language is in part qualitative, with concepts such as set, relation, function and recursion/induction, but it is also partly quantitative, with principles of counting and finite probability. Entwined with both are the...
London: Springer, 2012
e20407539
eBooks Universitas Indonesia Library
Pitt-Francis, Joe, author
This easy-to-read textbook/reference presents an essential guide to object-oriented C++ programming for scientific computing. With a practical focus on learning by example, the theory is supported by numerous exercises. Features, provides a specific focus on the application of C++ to scientific computing, including parallel computing using MPI, stresses the importance...
London: Springer, 2012
e20407906
eBooks Universitas Indonesia Library
Carlo A. Furia, author
Models that include a notion of time are ubiquitous in disciplines such as the natural sciences, engineering, philosophy, and linguistics, but in computing the abstractions provided by the traditional models are problematic and the discipline has spawned many novel models. This book is a systematic thorough presentation of the results...
Berlin: [, Springer-Verlag], 2012
e20410092
eBooks Universitas Indonesia Library
O`Leary, Dianne P., author
Learning through doing is the foundation of this book, which allows readers to explore case studies as well as expository material. The book provides a practical guide to the numerical solution of linear and nonlinear equations, differential equations, optimization problems, and eigenvalue problems. It treats standard problems and introduces important...
Philadelphia: Society for Industrial and Applied Mathematics, 2009
e20450990
eBooks Universitas Indonesia Library
Brabazon, Anthony, editor
Like its three predecessors, this fourth volume in its series covers cutting-edge natural computing and agent-based methodologies in computational finance and economics, option model calibration, financial trend reversal detection, algorithmic trading and more...
Berlin: Springer, 2011
e20418132
eBooks Universitas Indonesia Library
Sio Iong Ao, editor
A large international conference on Advances in Intelligent Control and Innovative Computing was held in Hong Kong, March March 16-18, 2011, under the auspices of the International MultiConference of Engineers and Computer Scientists (IMECS 2010). The IMECS is organized by the International Association of Engineers (IAENG). Intelligent Control and Computer...
New York: [, Springer], 2012
e20418335
eBooks Universitas Indonesia Library
Numerical software is used to test scientific theories, design airplanes and bridges, operate manufacturing lines, control power plants and refineries, analyze financial derivatives, identify genomes, and provide the understanding necessary to derive and analyze cancer treatments. Because of the high stakes involved, it is essential that results computed using software...
Philadelphia : Society for Industrial and Applied Mathematics, 2005
e20442972
eBooks Universitas Indonesia Library