Ditemukan 2287 dokumen yang sesuai dengan query
Sweetser, Eve, author
Cambridge, UK: Cambridge University Press, 1994
401.43 SWE f
Buku Teks Universitas Indonesia Library
Mason. Oliver
Edinburgh: Edinburgh University Press, 2000
410.285 MAS p
Buku Teks Universitas Indonesia Library
Luc Steels, editor
This state-of-the-art-survey documents the Fluid Construction Grammar (FCG), a new formalism for the representation of lexicons and grammars, which has been used in a wide range of case studies for different languages, both for studying specific grammatical phenomena and design patterns, as for investigating language learning and language evolution. The...
Berlin: Springer-Verlag, 2012
e20408461
eBooks Universitas Indonesia Library
Hove, East Sussex, UK: Psychology Press, 1997
413.028 COG
Buku Teks Universitas Indonesia Library
Chichester: Wiley-Blackweell, 2012
410 LIN
Buku Teks Universitas Indonesia Library
Semantics is the study of meaning in language. This clear and comprehensive textbook is the most up-to-date introduction to the subject available for undergraduate students. It not only equips students with the concepts they need in order to understand the main aspects of semantics, it also introduces the styles of...
Cambridge, UK: Cambridge University Press, 2010
e20375165
eBooks Universitas Indonesia Library
Zaqiatul Mardiah, author
Disertasi ini membahas semantik spasial preposisi ala dan nomina spasial fawqa dengan memanfaatkan ancangan linguistik kognitif, khususnya semantik kognitif. Dengan sumber data dari corpus.kacst.edu.sa dan model polisemi berprinsip dari Tyler dan Evans (2003), serta konfigurasi dari Ferrando dan Gosser (2011), kajian ini menemukan makna primer ala dan fawqa yaitu...
Depok: Fakultas Ilmu Pengetahuan Budaya Universitas Indonesia, 2020
D-pdf
UI - Disertasi (Membership) Universitas Indonesia Library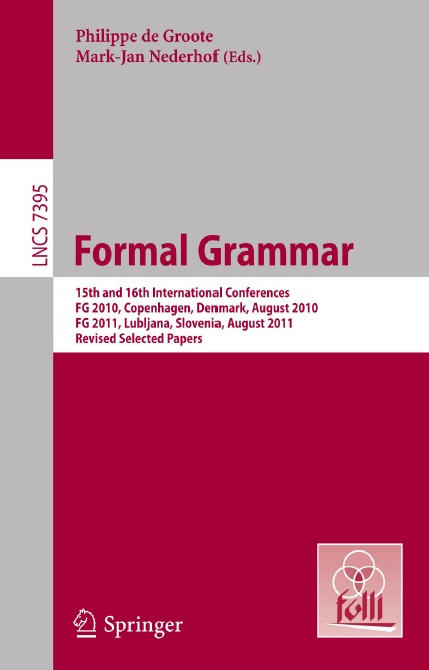 Groote, Philippe de, editor
This book constitutes the refereed proceedings of the 15th and 16th International Conference on Formal Grammar 2010 and 2011,collocated with the European Summer School in Logic, Language and Information in July 2010/2011. The 19 revised full papers were carefully reviewed and selected from a total of 50 submissions. The papers...
Berlin: [Springer-Verlag, ], 2012
e20410160
eBooks Universitas Indonesia Library
Hurford, James R.
New York: Cambridge University Press, 1993
412 HUR s
Buku Teks Universitas Indonesia Library
Jaszczolt, K. M., author
Oxford: Oxford University Press, 2007
401.43 JAS d
Buku Teks Universitas Indonesia Library