Found 28295 Document(s) match with the query 20510030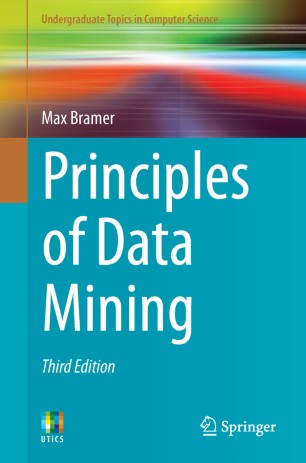 Bramer, Max, author
This book explains and explores the principal techniques of Data Mining, the automatic extraction of implicit and potentially useful information from data, which is increasingly used in commercial, scientific and other application areas. It focuses on classification, association rule mining and clustering. Each topic is clearly explained, with a focus on...
London: Springer-Verlag, 2016
e20510030
eBooks Universitas Indonesia Library
Ullman, Jeffrey D., 1942-, author
Rockville: Computer Science Press , 1989
005.74 ULL p II
Buku Teks Universitas Indonesia Library Williams, William F., author
Elmhurst: The Business Press, 1968
029.7 WIL p
Buku Teks Universitas Indonesia Library
Ekstraksi informasi merupakan sebuah tahap awal dari proses analisis data tekstual. Ekstraksi informasi diperlukan untuk mendapatkan informasi dari data tekstual sehingga dapat digunakan untuk proses analisis seperti misalnya klasifikasi dan kategorisasi. Data tekstual sangat dipengaruhi oleh bahasa, jika sebuah data tekstual berbahasa Arab maka karakter yang digunakan adalah karakter arab. Knowledge dictionary...
[Direktorat Riset dan Pengabdian Masyarakat Universitas Indonesia, Institut Teknologi Sepuluh Nopember. Fakultas Teknologi Informasi], 2012
pdf
Artikel Jurnal Universitas Indonesia Library
Seorang mahasiswa sebelum melakukan kegiatan akademis di Perguruan Tinggi akan melakukan pengisian Formulir Rencana Studi (FRS). Dengan bertambah majunya teknologi informasi dijital seperti intemet, aplikasi pengisian form FRS dapat dilakukan dad jarak jauh dengan menggunakan world wide web. Pada skhpsi ini akan diterapkan aplikasi basis data pads dokumen web di...
Fakultas Teknik Universitas Indonesia, 1997
S38885
UI - Skripsi (Membership) Universitas Indonesia Library
Greco, Salvatore, editor
These four volumes (CCIS 297, 298, 299, 300) constitute the proceedings of the 14th International Conference on Information Processing and Management of Uncertainty in Knowledge-Based Systems, IPMU 2012, held in Catania, Italy, in July 2012. The 258 revised full papers presented together with six invited talks were carefully reviewed and...
Berlin: [, Springer-Verlag], 2012
e20410553
eBooks Universitas Indonesia Library
Simon, Alan, author
Learn about the emergence and evolution of IT in the enterprise, see how machine learning is transforming business intelligence, and discover various cognitive artificial intelligence solutions that complement and extend machine learning. In this book, author Rohit Kumar explores the challenges when these concepts intersect in IT systems by presenting...
Amsterdam: Morgan Kaufmann, 2014
e20480353
eBooks Universitas Indonesia Library
"It has become increasingly accepted that important digital data must be retained and shared in order to preserve and promote knowledge, advance research in and across all disciplines of scholarly endeavor, and maximize the return on investment of public funds. To meet this challenge, colleges and universities are adding data...
West Lafayette : Indiana Purdue University Press, 2014
025.24 RES
Buku Teks Universitas Indonesia Library

Hengky Latan, author
Alfabeta : Bandung , 2014
004.77 LAT a
Buku Teks Universitas Indonesia Library
Iswanjono, author
ABSTRAK
Di dalam Tugas Akhir ini akan dibahas aplikasi TCP/IP pada sistem storing-forward dalam komunikasi data paket melalui radio. Dengan protokol TCP/IP, maka jaringan komunikasi data paket melalui radio dapat dihubungkan ke jaringan global TCP/IP melalui saluran telepon. Instrumen yang dihasilkan disebut digital repeater (digipeater).
Rancang-bangun digipeater adalah berbasis mikrokomputer, dengan...
1997
T-Pdf
UI - Tesis (Membership) Universitas Indonesia Library