Ditemukan 16910 dokumen yang sesuai dengan query
Stakgold, Ivar, author
For more than 30 years, this two-volume set has helped prepare graduate students to use partial differential equations and integral equations to handle significant problems arising in applied mathematics, engineering, and the physical sciences. Originally published in 1967, this graduate-level introduction is devoted to the mathematics needed for the modern...
Philadelphia : Society for Industrial and Applied Mathematics, 2000
e20442710
eBooks Universitas Indonesia Library
Stakgold, Ivar
New York: John Wiley and Sons, 1979
515.35 STA g
Buku Teks Universitas Indonesia Library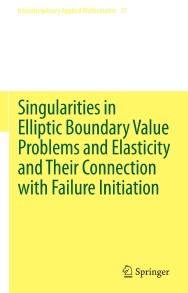 Yosibash, Zohar, author
The author treats the mathematical formulations from an engineering viewpoint and presents high-order finite-element methods for the computation of singular solutions in isotropic and anisotropic materials, and multi-material interfaces. The proper interpretation of the results in engineering practice is advocated, so that the computed...
New York: [Spinger Science, ], 2012
e20419362
eBooks Universitas Indonesia Library
Fokas, Athanassios S., 1952- , author
This book presents a new approach to analyzing initial-boundary value problems for integrable partial differential equations (PDEs) in two dimensions, a method that the author first introduced in 1997 and which is based on ideas of the inverse scattering transform. This method is unique in also yielding novel integral representations...
Philadelphia: Society for Industrial and Applied Mathematics, 2008
e20450705
eBooks Universitas Indonesia Library
Brown, James Ward, 1934-, author
New York: McGraw-Hill, 2012
515.243 BRO f
Buku Teks Universitas Indonesia Library
Zill, Dennis G., author
Netherlands: Brooks/Cole & Cengage Learning, 2013
515.35 ZIL d
Buku Teks Universitas Indonesia Library Boyce, William E., author
New York: John Wiley and Sons, 1977
515.35 BOY e
Buku Teks Universitas Indonesia Library
Martin, Robert H., author
New York: McGraw-Hill, 1984
515.35 MAR e
Buku Teks Universitas Indonesia Library
Boyce, William E., author
New York: John Wiley and Sons, 1992
515.35 BOY e
Buku Teks Universitas Indonesia Library
Boyce, William E., author
New York : John Wiley and Sons, 2010
515.35 BOY e
Buku Teks Universitas Indonesia Library