Ditemukan 33540 dokumen yang sesuai dengan query
Mello, Jeffrey A., author
Amerika Serikat: Thomson Corporation, 2006
658.3 MEL s
Buku Teks Universitas Indonesia Library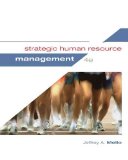 Mello, Jeffrey A., author
Stamford, CT: Cengage Learning, 2015
658.3 MEL s
Buku Teks Universitas Indonesia Library
Feza Tabassum Azmi, author
This book provides a comprehensive and up-to-date text in the subject. It seeks to address a wide gap existing in terms of the availability of a book that provides extensive coverage in the field. It aims to provide students in human resource management courses and practising managers with a comprehensive...
United Kingdom: Cambridge University Press, 2019
e20528712
eBooks Universitas Indonesia Library Nankervis, Alan R., author
Melbourne: Thomas Nelson Australia, 1996
658.3 NAN s
Buku Teks Universitas Indonesia Library
The Ninth Edition of Human Resource Management: Gaining a Competitive Advantage was developed to teach students how to face and meet a variety of challenges within their organizations and how to gain a competitive advantage for their companies....
New York: McGraw-Hill Education, 2015
658.3 HUM
Buku Teks Universitas Indonesia Library
Oxford : Blackwell Publisher, 2000
658.3 STA
Buku Teks Universitas Indonesia Library
London: Prentice-Hall, 2007
658.3 Mil s
Buku Teks Universitas Indonesia Library
Nankervis, Alan R., author
Melbourne: Thomas Nelson Australia, 1996
658.3 Nan s
Buku Teks Universitas Indonesia Library
Los Angeles: Sage, 2014
658.3 STR
Buku Teks Universitas Indonesia Library
Greer, Charles R., author
Upper Saddle River, New Jersey: Prentice-Hall, 2001
658.3 GRE s
Buku Teks Universitas Indonesia Library