Ditemukan 5050 dokumen yang sesuai dengan query Singapore: World Scientific , 1992
539.702 INT n II
Buku Teks Universitas Indonesia Library
New York: Plenum Press , 1993
539.754 CON
Buku Teks Universitas Indonesia Library
Todorov, I.T.
Oxford: Pergamon Press, 1971
530.143 TOD at
Buku Teks Universitas Indonesia Library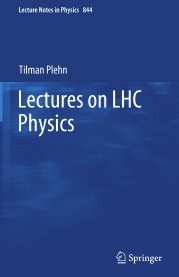 Plehn, Tilman, author
These lectures cover three aspects to help understand LHC results in the Higgs sector and in searches for physics beyond the Standard Model. They discuss the many facets of Higgs physics, which is at the core of this significantly expanded second edition, then QCD, to the degree relevant for LHC...
Berlin : [Spinger-Verlag, ], 2012
e20425094
eBooks Universitas Indonesia Library
Cabra, Daniel C., editor
The present volume, covering such topics as quantum phase transitions of antiferromagnets and cuprate-based high-temperature superconductors, electronic liquid crystal phases, graphene physics, dynamical mean field theory applied to strongly correlated systems, transport through quantum dots, quantum information perspectives on many-body physics, frustrated magnetism, statistical mechanics of classical and quantum computational...
Berlin : [Spinger-Verlag, ], 2012
e20425277
eBooks Universitas Indonesia Library
Green, Alex Edward Samuel, 1919-, author
Reading, Mass.: Addison-Wesley, 1965
539 GRE a
Buku Teks Universitas Indonesia Library
Krishnan, K. Gopala
Delhi: Macmillan, 1973
539 KRI a
Buku Teks Universitas Indonesia Library
Hodgson, P.E., author
Oxford: Clarendo Press, 1997
539.7 HOD i
Buku Teks Universitas Indonesia Library Halliday, David, 1916-2010, author
New York: John Wiley and Sons, 1960
539.7 HAL i
Buku Teks Universitas Indonesia Library
Green, Alex Edward Samuel, 1919-, author
New York: McGraw-Hill, 1955
539.7 GRE n
Buku Teks Universitas Indonesia Library