Ditemukan 3042 dokumen yang sesuai dengan query
Khlopov, Maxim, author
This book guides readers (astronomers, physicists, and university students) through central questions of Practical Cosmology, a term used by the late Allan Sandage to denote the modern scientific endeavor to find the cosmological model best describing the universe of galaxies, its geometry, size, age, and matter composition. The authors draw...
Dordrecht: [, Spinger], 2012
e20425105
eBooks Universitas Indonesia Library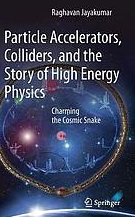 Jayakumar, Raghavan, author
This book concentrates on areas of controversy in coloproctology that have direct relevance to current management decisions and therapy...
Berlin: [, Spinger-Verlag], 2012
e20410853
eBooks Universitas Indonesia Library
his textbook brings together nuclear and particle physics, presenting a balanced overview of both fields as well as the interplay between the two. The theoretical as well as the experimental foundations are covered, providing students with a deep understanding of the subject. In-chapter exercises ranging from basic experimental to sophisticated...
Cambridge: Cambridge University Press, 2017
539.7 FOU
Buku Teks Universitas Indonesia Library
Braibant, Sylvie, author
The book provides theoretical and phenomenological insights on the structure of matter, presenting concepts and features of elementary particle physics and fundamental aspects of nuclear physics. Starting with the basics (nomenclature, classification, acceleration techniques, detection of elementary particles), the properties of fundamental interactions (electromagnetic, weak and strong) are introduced with a...
Dordrecht: [Spinger Science, ], 2012
e20424907
eBooks Universitas Indonesia Library
Cheng, David C.
London: Addison-Wesley , 1979
539.721 CHE e (1)
Buku Teks Universitas Indonesia Library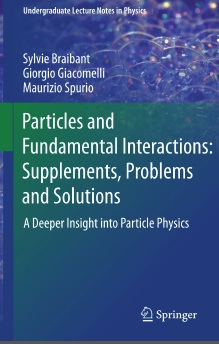 This volume is an exercises and solutions manual that complements the book "Particles and Fundamental Interactions" by Sylvie Braibant, Giorgio Giacomelli, and Maurizio Spurio. It aims to give additional intellectual stimulation for students in experimental particle physics. It will be a helpful companion in the preparation of a...
Dordrecht: Spinger Science, 2012
e20424908
eBooks Universitas Indonesia Library
Jason Kristiano, author
ABSTRACT
Penelitian ini mengajukan model penggunaan representasi spin-3/2 murni pada fisika partikel. Untuk memformulasikan representasi spin-3/2 murni secara kovarian digunakan representasi antisimetrik tensor spinor dan penelitian ini menggunakan hamburan dengan resonans delta sebagai contoh. Penelitian ini menemukan bahwa penggunaan Lagrangian interaksi yang konvensional menimbulkan masalah amplitudo transisi tidak dapat menjelaskan fenomena...
2018
S-Pdf
UI - Skripsi (Membership) Universitas Indonesia Library
Valentin, Luc, author
Amsterdam: North-Holland, 1981
539.7 VAL s
Buku Teks Universitas Indonesia Library
Valentin, Luc, author
Amsterdam: North-Holland, 1981
539.7 VAL s
Buku Teks Universitas Indonesia Library
Martin, A.D., author
Amsterdam: North-Holland, 1970
530.1 MAR e
Buku Teks Universitas Indonesia Library