Ditemukan 2736 dokumen yang sesuai dengan query
Ross, Michael H., author
Now in its seventh edition, Histology: A Text and Atlas is ideal for medical, dental, health professions, and undergraduate biology and cell biology students. This best-selling combination text and atlas includes a detailed textbook, which emphasizes clinical and functional correlates of histology fully supplemented by vividly informative illustrations...
Philadelphia : Wolters Kluwer, 2016
616.018 ROS h
Buku Teks Universitas Indonesia Library
Sheeler, Phillip, author
New York: John Wiley and Sons, 1980"
574.87 SHE c
Buku Teks Universitas Indonesia Library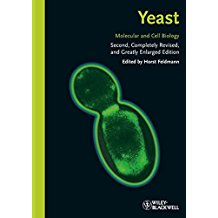 Abstract: Based on the feedback resulting from his highly successful monograph, Horst Feldmann has totally rewritten he contents to produce a comprehensive, student-friendly textbook on the topic. The scope has been widened, with almost double the content so as to include all aspects of yeast biology, from genetics via cell biology...
Hoboken: John Wiley, 2012
571.6 YEA
Buku Teks Universitas Indonesia Library
As the amount of information in biology expands dramatically, it becomes increasingly important for textbooks to distill the vast amount of scientific knowledge into concise principles and enduring concepts.As with previous editions, Molecular Biology of the Cell, Sixth Edition accomplishes this goal with clear writing and beautiful illustrations. The Sixth...
New York: Garland Science, 2008
571.6 MOL
Buku Teks Universitas Indonesia Library
New York: Garland Science, 2015
571.6 MOL
Buku Teks Universitas Indonesia Library
Alberts, Bruce, author
New York: Garland Science, 2008
574ALBM002
Multimedia Universitas Indonesia Library
Alberts, Bruce, author
New York: Garland Science, 2008
574ALBM001
Multimedia Universitas Indonesia Library
Sheeler, Phillip, author
New York: John Wiley and Sons, 1987
571.6 SHE c
Buku Teks Universitas Indonesia Library
Wilson, John, editor
New York: Garland Publishing, 1989
571.6 WIL m
Buku Teks Universitas Indonesia Library
Bregman, Allyn, author
New York: John Wiley and Sons, 1990
574.87 BRE l
Buku Teks Universitas Indonesia Library