Ditemukan 11583 dokumen yang sesuai dengan query Reynolds, William C., author
Jakarta: Erlangga, 1987
621.402 1 REY t
Buku Teks Universitas Indonesia Library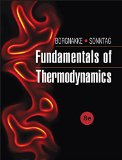 Borgnakke, Claus, author
Hoboken, New Jersey: Wiley, 2013
621.402 BOR f
Buku Teks Universitas Indonesia Library
Cengel, Yunus A., author
This text covers the basic principles of thermodynamics while presenting a wealth of real-world engineering examples so students get a feel for how thermodynamics is applied in engineering practice. This text helps students develop an intuitive understanding by emphasizing the physics and physical arguments. Cengel and Boles explore the various...
New York: McGraw-Hill , 2015
621.402 1 CEN t
Buku Teks Universitas Indonesia Library
Cengel, Yunus A., author
Boston: McGraw-Hill , 2002
621CENT004
Multimedia Universitas Indonesia Library
Rogers, G.F.C. (Gordon Frederick Crichton), author
London: Longmans, 1967
621.4021 ROG e
Buku Teks Universitas Indonesia Library
Tahir-Kheli, Reza, author
This textbook explains completely the general and statistical thermodynamics. It begins with an introductory statistical mechanics course, deriving all the important formulae meticulously and explicitly, without mathematical short cuts. The main part of the book deals with the careful discussion of the concepts and laws of thermodynamics, van der Waals,...
Heidelberg : [Springer, ], 2012
e20425120
eBooks Universitas Indonesia Library
Sonntag, Richard E., author
New York: John Wiley & Sons,: John Wiley and Sons, 1982
536.7 SON i
Buku Teks Universitas Indonesia Library
Sonntag, Richard E., author
New York: John Wiley and Sons, 1991
621.402 SON i (1)
Buku Teks Universitas Indonesia Library
Smith, J. M., author
New York: McGraw-Hill, 1975
660.296 9 SMI i
Buku Teks Universitas Indonesia Library
Smith, J. M., author
Auckland: McGraw-Hill, 1975
660.266 9 SMI i
Buku Teks Universitas Indonesia Library