Ditemukan 22459 dokumen yang sesuai dengan query Nida, Eugene A., author
Canada: University of Michigan, 1970
415 NID m
Buku Teks Universitas Indonesia Library
Why are there more English words ending in -ness than ending in -ity? What is it about some endings that makes them more widely usable than others? Can we measure the differences in the facility with which the various affixes are used? Does the difference in facility reflect a difference...
Cambridge, UK: Cambridge University Press, 2001
e20394767
eBooks Universitas Indonesia Library

Morphology and lexical semantics explores the meanings ofmorphemes and how they combine to form the meanings of complex words, including derived words (writer, unionize), compounds (dog bed, truck driver), and words formed by conversion. Rochelle Lieber discusses the lexical semantics of word formation in a systematic way, allowing the reader...
Cambridge, UK: Cambridge University Press, 2004
e20394777
eBooks Universitas Indonesia Library
In the history of generative grammar, the question of the semantics of compounds was caught up in what Newmeyer (1986) called the "Linguistic Wars", the conflict between generative semantics and interpretive semantics. An important difference between the two sides was the place they attributed to semantics in the architecture of...
Cambridge: Cambridge University Press, 2016
415.92 SEM
Buku Teks Universitas Indonesia Library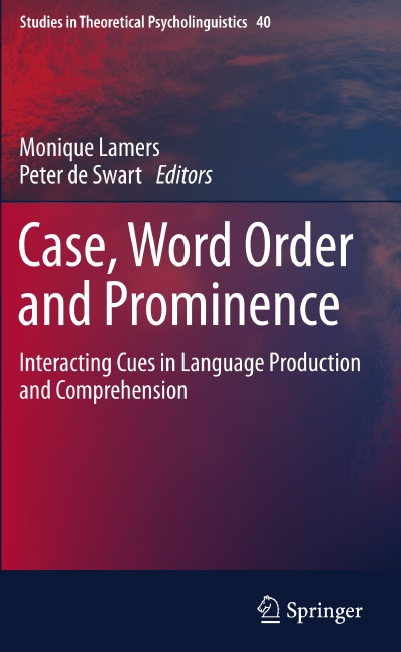 This book provides an overview of recent psycholinguistic and theoretical investigations on the interplay between structural syntactic relations and role semantics. The focus herein lies on the interaction of case marking and word order with semantic prominence features, such as animacy and definiteness. The interaction of these different sorts of...
Dordrecht, Netherlands: Spinger Science, 2012
e20399644
eBooks Universitas Indonesia Library
Gussmann, Edmund, author
New York: Cambridge University Press, 2002
414 GUS p
Buku Teks Universitas Indonesia Library
Clear and concise, this textbook is an introduction to phonology for students which assumes no prior knowledge of this area of linguistics and provides an overall view of the field which can be covered within one year. The book does not confine itself to any specific theoretical approach and can...
Cambridge, UK: Cambridge University Press, 2002
e20385360
eBooks Universitas Indonesia Library Retno Handayani, author
ABSTRAK Penelitian ini bertujuan untuk mengetahui proses pembentukan verba dan nomina turunan baru yang melibatkan afiksasi oleh Mario Teguh. Teori morfosintaksis dengan ancangan fungsionalisme digunakan dalam penelitian ini. Fungsi sintaksis dan banyaknya kehadiran argumen pada sebuah klausa mendatangkan pengaruh pada afiksasi verba turunan dalam sebuah predikator, sedangkan adanya pendekatan proses dalam...
Fakultas Ilmu Pengetahuan Budaya Universitas Indonesia, 2016
T44823
UI - Tesis (Membership) Universitas Indonesia Library
Sportiche, Dominique, author
Chichester, England: Wiley Blackwell, 2014
415 SPO i
Buku Teks Universitas Indonesia Library
Narendra Ikhwan Arif Rianto, author
ABSTRAK
Skripsi ini membahas analisis ketidaksesuaian makna interjeksi dalam komik Q-R-T: der neue Nachbar dengan makna dalam tiga kamus bahasa Jerman, yaitu Wahrig, Langenscheidt, dan Duden. Terdapat 12 dari 74 macam interjeksi yang maknanya tidak sesuai dengan makna dalam kamus. Penelitian ini menggunakan penelitian kepustakaan dan berfokus pada makna semantik, konteks pragmatik, Rechtschreibregeln dan unsur suprasegmental....
2016
S65215
UI - Skripsi (Membership) Universitas Indonesia Library