Ditemukan 19801 dokumen yang sesuai dengan query
Boston: Harvard Business Review Press, 2011
658.3 HBR (1)
Buku Teks Universitas Indonesia Library
Boston: Harvard Business Review Press, 2010
658.3 HBR (1)
Buku Teks Universitas Indonesia Library
Boston : Harvard Business Review Press, 2016
658.300 8 HBR
Buku Teks Universitas Indonesia Library
Boston: Harvard business review press, 2011
658 HBR (1)
Buku Teks Universitas Indonesia Library
If you read nothing else on communicating effectively, read these 10 articles. The publisher combed through hundreds of articles in the Harvard Business Review archive and selected the most important ones to help you express your ideas with clarity and impact...
Harvard business review's 10 must reads on communication: Harvard Business Review Press, 2013
658.45 HBR
Buku Teks Universitas Indonesia Library
Kotter, John P., 1947-, author
70% of all change initiatives fail. But the odds turn in your company's favor once you understand that change is a multi-stage process--not an event--and that persuasion is key to establishing a sense of urgency, winning support, and silencing naysayers. We've combed through hundreds of Harvard Business Review articles on...
Boston: Harvard Business Review Press, 2011
658.406 KOT h
Buku Teks Universitas Indonesia Library
Mosley, Donald C., author
Cinicnati: South-Western Publishing, 1985
658.302 MOS s
Buku Teks Universitas Indonesia Library
Axelrod, Wendy, author
San Francisco: Berrett Koehler, 2011
658.3 AXE m
Buku Teks Universitas Indonesia Library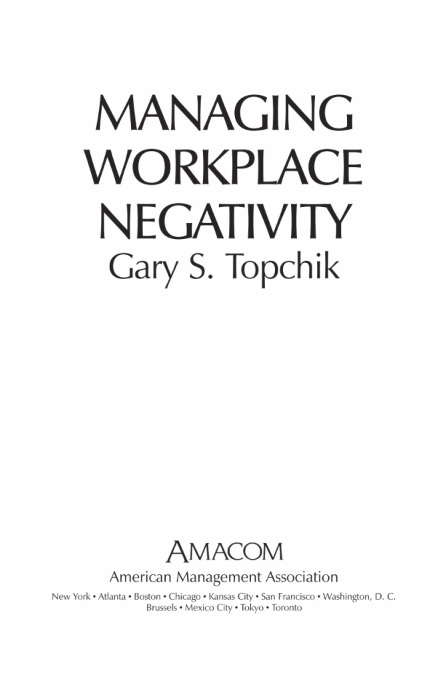 Topchik, Gary S., author
"The symptoms: increased customer complaints, high turnover, low quality of work, increased absences, loss of morale and motivation, lack of creativity and innovation, loss of loyalty to the organization. The diagnosis: workplace negativity. The cure: Managing Workplace Negativity. Workplace negativity may seem like an intangible problem--but it has very tangible...
New York: [American Management Association, ], 2001
e20438125
eBooks Universitas Indonesia Library
Miller, Laurence, 1951- , author
How does an already busy manager deal with people whose personalities are difficult or even seriously disturbed? The answer lies in using practical psychology to understand just what it is that makes them tick, whether it's something as common as being introverted or extroverted ...or something much more serious. From...
Alexandria, Virginia: American Management Association, 2008
e20441355
eBooks Universitas Indonesia Library