Ditemukan 13779 dokumen yang sesuai dengan query
Sportiche, Dominique
London: Routledge, 1998
415 SPO p
Buku Teks Universitas Indonesia Library
Gelderen, Elly van, author
New York: Cambridge University Press, 2013
415 GEL c (1)
Buku Teks Universitas Indonesia Library
Didi Sukyadi, author
Klausa ing atau selanjutnya disebut klausa partisipium lepas (KPL) memiliki ciri gramatikal yang menarik untuk diteliti. Pertama, KPL dianggap tidak memiliki kala dan hubungan temporal dengan klausa induknya. Haiman (1985b: 217) mengatakan bahwa kala KPL bersifat terbuka, sedangkan Givon (1993:302) melihat KPL sebagai sebuah klausa yang memiliki ciri kefinitan rendah...
Depok: Universitas Indonesia, 2005
D536
UI - Disertasi (Membership) Universitas Indonesia Library
Kaufmann, Magdalena
This book puts forward a fresh perspective. It analyzes imperatives in terms of modalized propositions, and identifies an additional, presuppositional, meaning component that makes an assertive interpretation inappropriate. The author shows how these two elements can help explain the varied effects imperatives have, depending on their usage context. Imperatives have been...
Dordrecht, Netherlands: Spinger Science, 2012
e20400325
eBooks Universitas Indonesia Library
Spencer, Andrew, author
[In most languages we find 'little words' which resemble a full word, but which cannot stand on their own. Instead they have to 'lean on' a neigh- bouring word, like the 'd, 've and unstressed 'em of Kim'd've helped'em ('Kim would have helped them'). These are clitics, and they are...
Cambrige: [Cambridge University Press, Cambridge University Press], 2012
e20372265
eBooks Universitas Indonesia Library
Starosta, Stanley
London: Pinter Publishers, 1988
415 STA c
Buku Teks Universitas Indonesia Library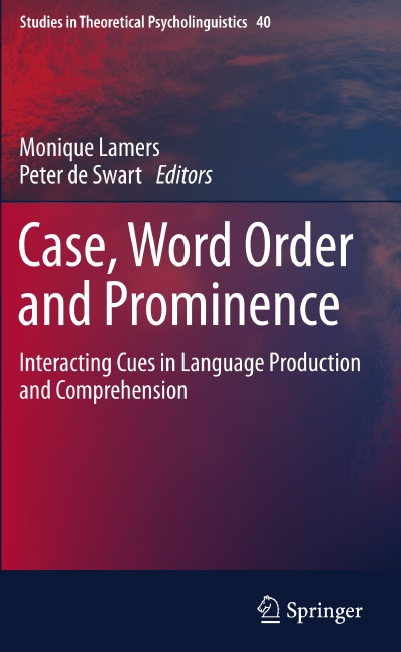 This book provides an overview of recent psycholinguistic and theoretical investigations on the interplay between structural syntactic relations and role semantics. The focus herein lies on the interaction of case marking and word order with semantic prominence features, such as animacy and definiteness. The interaction of these different sorts of...
Dordrecht, Netherlands: Spinger Science, 2012
e20399644
eBooks Universitas Indonesia Library
Amsterdam : John Benjamins B. V., 1978
415 VAL
Buku Teks Universitas Indonesia Library
Susumo, Ohno
Tokyo: Kokusai Bunka Shinkoka, 1970
495.68 SUS o (1)
Buku Teks Universitas Indonesia Library Nida, Eugene A., author
Canada: University of Michigan, 1970
415 NID m
Buku Teks Universitas Indonesia Library