Ditemukan 2170 dokumen yang sesuai dengan query
Mann, Prem S, author
New York: John Wiley and Sons, 1995
519.5 MAN i
Buku Teks Universitas Indonesia Library
Weiss, Neil A.
Reading, MA: Addison Wesley Publ., 1986
519.5 WEI i
Buku Teks Universitas Indonesia Library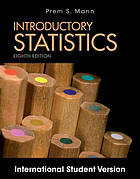 Mann, Prem S, author
The 8 th edition of Mann's Introductory Statistics continues to offer a traditional approach to introductory statistics. Mann delivers information that business professionals need including the most up-to-date methods and applications and latest information in the field...
Singapore: John Wiley and Sons, 2013
519.5 MAN i
Buku Teks Universitas Indonesia Library
Weiss, Neil A. author
Reading, MA: Addison-Wesley, 1995
519.5 WEI i (1)
Buku Teks Universitas Indonesia Library
Yamane, Taro, author
New York: Harper & Row , 1973
519.5 YAM s
Buku Teks Universitas Indonesia Library
Wonnacott, Thomas H., 1935-, author
New York: John Wiley and Sons, 1990
519.5 WON i
Buku Teks Universitas Indonesia Library
Mann, Prem S, author
New Jersey: Jon Wiley & Sons, 2011
519.5 MAN i (1)
Buku Teks Universitas Indonesia Library
Weiss, Neil
Reading, MA: Addison-Wesley Pub. Co., 1982
519.5 WEI i
Buku Teks Universitas Indonesia Library
McClave, James T., author
San Fransisco: Dellen Publishing, 1979
519.5 MCC s
Buku Teks Universitas Indonesia Library
Hays, William L., author
Fort Worth: Harcourt Brace Colege, 1994
519.5 HAY s
Buku Teks Universitas Indonesia Library