Ditemukan 4992 dokumen yang sesuai dengan query
London: Routledge, 1996
R 509.174927 ENC II
Buku Referensi Universitas Indonesia Library
Esseesy, Mohssen, author
Leiden: Brill, 2010
492.757 ESS g
Buku Teks Universitas Indonesia Library
Hirschler, Konrad
Medieval Arabic Historiography is concerned with social contexts and narrative structures of pre-modern Islamic historiography written in Arabic in seventh and thirteenth-century Syria and Eygpt. Taking up recent theoretical reflections on historical writing in the European Middle Ages, this extraordinary study combines approaches drawn from social sciences and literary studies,...
London: Roudledge, 2006
297.2 HIR m
Buku Teks Universitas Indonesia Library
Elmahdy, Mohamed, author
Novel techniques for dialectal Arabic speech describes approaches to improve automatic speech recognition for dialectal Arabic. Since speech resources for dialectal Arabic speech recognition are very sparse, the authors describe how existing Modern Standard Arabic (MSA) speech data can be applied to dialectal Arabic speech recognition, while assuming that MSA...
New York: [, Springer], 2012
e20418294
eBooks Universitas Indonesia Library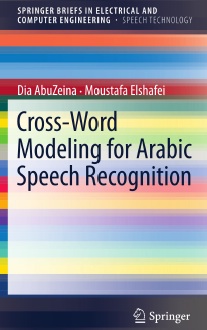 AbuZeina, Dia, author
Cross-word modeling for Arabic speech recognition utilizes phonological rules in order to model the cross-word problem, a merging of adjacent words in speech caused by continuous speech, to enhance the performance of continuous speech recognition systems. The author aims to provide an understanding of the cross-word problem and how it...
New York: [, Springer], 2012
e20418404
eBooks Universitas Indonesia Library
Abdelrahman Tareq Sadeq Elsharqawy, author
ABSTRACT
The Arabic Language has a long history as living and spoken language. It also occupies a wide geographical area and has acquired the position of a communicational language and international language, as well as a language for religion (Islam) and for science - specially during the medieval ages. There is...
Osaka: Graduate School of Language and Culture, Osaka University, 2018
400 FRO 1 (2018)
Artikel Jurnal Universitas Indonesia Library
Vrolijk, Arnoud, author
Arabic is the only living language to have been taught in Dutch higher education for more than four centuries. Practical usefulness, however, has been a prerequisite from the start. Knowledge of Arabic was to promote Dutch interests in the Muslim world, or to help refute Islam. As a cognate of...
Leiden: Brill, 2014
e20497900
eBooks Universitas Indonesia Library
Deroche, Francois, author
London : Al-Furqan Islamic Heritage Foundation, 2005
091 DER i
Buku Teks Universitas Indonesia Library
Hourani, Albert, author
This is not a full list of the numerous books and articles on the subject of the book which have appeared since it was published. It includes some of the most important of them, particularly those which have persuaded me to revise some of the ideas expressed in the book,...
United States: Cambridge University Press, 2009
e20527970
eBooks Universitas Indonesia Library
JSSH 19:2(2011)
Artikel Jurnal Universitas Indonesia Library