Ditemukan 11933 dokumen yang sesuai dengan query
Gartside, L. (Leonard), author
London: Macdonald and Evans, 1982
651.75 GAR m
Buku Teks Universitas Indonesia Library
Williamson, John
New York: New York University Press, 1991
337 WIL w
Buku Teks Universitas Indonesia Library
Williamson, John
New York: Harvester Wheatsheaf, 1991
339 WIL w (1)
Buku Teks Universitas Indonesia Library
Schiavo-Campo, Salvatore
Cambridge, UK: Winthrop Publishers, Inc., 1978
337 SCH i
Buku Teks Universitas Indonesia Library
Miller, Roger LeRoy, author
Mason, Ohio: Thomson West, 2007
346.07 MIL l
Buku Teks Universitas Indonesia Library
Lana Aprilia, author
ABSTRAK
Penelitian ini bertujuan untuk mengetahui apakah bagaimana pengaturan kontrak berbahasa asing dengan salah satu pihak Indonesia, putusan Hakim Mahkamah Agung yang memutus Loan Agreement antara Nine AM Ltd. dengan PT Bangun Karya Pratama Lestari batal demi hukum sudah sesuai dengan peraturan perundang-undangan atau tidak dan untuk mengetahui implikasi yuridis terhadap...
2018
S-Pdf
UI - Skripsi (Membership) Universitas Indonesia Library
The authors, each of whom is an experienced practitioner in the field of international arbitration, draw on experience in a wide variety of national jurisdictions. In addition to drafting chapters independently, each has made invaluable contributions to other authors? chapters. Authoritative case law research was further provided by dozens of...
Alphen aan den Rijn: Kluwer Law International, 2010
341.522 REC
Buku Teks Universitas Indonesia Library
Quigley, John
Columbus: Ohio State University Press, 1974
382.094 7 QUI s
Buku Teks Universitas Indonesia Library
[Annotation business intelligence (BI) promises an organization the capability of collecting and analyzing internal and external data to generate knowledge and value, providing decision support at the strategic, tactical, and operational levels. Business intelligence is now impacted by the big data phenomena and the evolution of society and users, and...
Berlin: [Spinger-Verlag, Spinger-Verlag], 2012
e20396499
eBooks Universitas Indonesia Library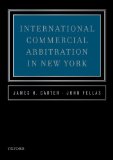 New York: Oxford University Press, 2013
341.522 INT
Buku Teks Universitas Indonesia Library