Ditemukan 923 dokumen yang sesuai dengan query
London: Chcaho Press, 1963
297.122 UNI
Buku Teks Universitas Indonesia Library
Jakarta: Yayasan Obor Indonesia , 1983
297.09 ISL
Buku Teks Universitas Indonesia Library
Von Grunebaum, G.E. (Gustave Edmund), 1909-1972
Chicago : University of Chicago, 1955
297.09 GRU u
Buku Teks Universitas Indonesia Library
Jakarta: Yayasan Perkhidmatan, 1983
296.71 UNI t
Buku Teks Universitas Indonesia Library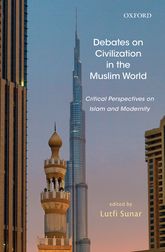 Sunar, Lutfi, author
Since its birth as a concept, civilization has been defined by an encounter with the other. Barbarism, the ever-ready counter concept, has provided civilization with its raison detre, that of exerting violence upon other societies to civilize them. Enlightenment thinkers defined civilization as an opponent of nature, while science and...
Oxford: Oxford University Press, 2017
e20469815
eBooks Universitas Indonesia Library
Husseini, Sara Leila, author
Early Christian-Muslim Debate on the Unity of God examines the writings of three of the earliest known Christian theologians to write comprehensive theological works in Arabic. Theodore Abu Qurra, Abu Raita and Ammar al-Basri provide valuable insight into early Christian-Muslim debate shortly after the rise of the Islamic empire. Through...
Leiden: Brill, 2014
e20497910
eBooks Universitas Indonesia Library
Li, Xiaodong, author
The book is divided into 4 chapters, which are about seeking roots and tracing civilization, poems and books to inherit civilization, long responsibilities and long roads to cast the soul of the country, and confidence and civilization to practice...
Beijing: China Renmin University Press, 2015
e20511148
eBooks Universitas Indonesia Library
Australia: Thomson, Brooks/Cole, 2006
570 BIO
Buku Teks Universitas Indonesia Library
Starr, Cecie, author
Belmont : Wadsworth, 1992
574 STA b
Buku Teks Universitas Indonesia Library
Starr, Cecie, author
United States of America: Thomson, 2004
570 STA b (1)
Buku Teks Universitas Indonesia Library