Ditemukan 14965 dokumen yang sesuai dengan query
New York: North Holland, 1985
620.004 2 KNO
Buku Teks Universitas Indonesia Library
Parker, M.A.
London: Macmillan, c1995
R.604.240 285 Par d
Buku Teks Universitas Indonesia Library
This book presents the proceedings of the 14th International Conference on Computer Aided Engineering, collecting the best papers from the event, which was held in Wrocław, Poland in June 2018. It includes contributions from researchers in computer engineering addressing the applied science and development of the industry and offering up-to-date...
Switzerland: Springer Nature, 2019
e20509927
eBooks Universitas Indonesia Library Eisner, Howard
Englewood Cliffs, N.J.: Prentice-Hall, 1988
620.004 2 EIS c (1)
Buku Teks Universitas Indonesia Library
Fakultas Teknik Universitas Indonesia, 1989
03 Wah c
UI - Laporan Penelitian Universitas Indonesia Library
Stojkovic, Zlatan, author
This textbooks demonstrates the application of software tools in solving a series of problems from the field of designing power system structures and systems. It contains four chapters : The first chapter leads the reader through all the phases necessary in the procedures of computer aided modeling and simulation. It...
Berlin: Springer, 2012
e20398145
eBooks Universitas Indonesia Library
Artikel Jurnal Universitas Indonesia Library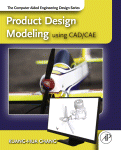 Chang, Kuang-Hua, author
Product design modeling using CAD/CAE is the third part of a four-part series. It is the first book to integrate discussion of computer design tools throughout the design process. Through this book, you will : - Understand basic design principles and all digital design paradigms - Understand computer-aided design, engineering, and manufacturing...
Oxford, UK: Academic Press, 2014
e20427656
eBooks Universitas Indonesia Library
Takeyoshi Dohi, editor
The aim of computer-aided surgery (CAS) is to advance the utilization of computers in the development of new technologies for medical services. The Asian Conference on Computer Aided Surgery (ACCAS) series provides a forum for academic researchers, clinical scientists, surgeons, and industrial partners to exchange new ideas, techniques, and the...
Tokyo : Springer, 2012
e20406671
eBooks Universitas Indonesia Library Berkshire: Pregamon Press, 1985
658.505 COM (1)
Buku Teks Universitas Indonesia Library