Ditemukan 35832 dokumen yang sesuai dengan query Shoman, Martin L., author
New York: McGraw-Hill, 1983
005.1 SHO s
Buku Teks Universitas Indonesia Library
Shooman, Martin L.
New York: McGraw-Hill, 1983
681.142 SHO s
Buku Teks Universitas Indonesia Library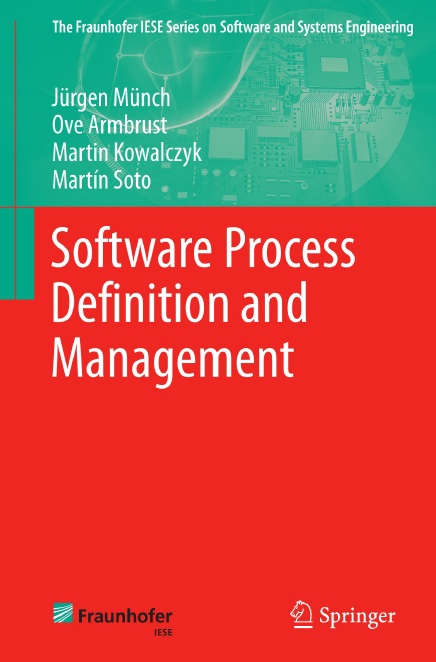 Jurgen Munch, author
Münch and his co-authors aim at providing knowledge that enables readers to develop useful process models that are suitable for their own purposes. They start with the basic concepts. Subsequently, existing representative process models are introduced, followed by a description of how to create individual models and the necessary means...
Berlin: Springer-Verlag, 2012
e20407805
eBooks Universitas Indonesia Library
[This book introduces fundamentals, trends and best practices in the software industry from a threefold perspective which equally takes into account design, management, and development of software. It demonstrates how cross-functional integration can be leveraged by software companies to successfully build software for people. Professionals from business and academia give...
Berlin: [Spinger-Verlag, ], 2012
e20397298
eBooks Universitas Indonesia Library
Heckel, Paul, author
San Francisco: Sybex, 1991
005.12 HEC e
Buku Teks Universitas Indonesia Library
Hendri Martius Wijaya, author
Saat ini peta persaingan industri otomotif di dunia mulai bergeser ke arah pengembangan teknologi sistem bantuan pengemudi. Pengembangan perangkat lunak tertanam pada sistem bantuan pengemudi telah menjadi studi yang sedang berkembang pesat. Sebagai sebuah sistem yang berbasiskan perangkat lunak tertanam, pengujian terhadap sistem bantuan pengemudi kerap mengalami permasalahan baik dari...
Depok: Fakultas Ilmu Komputer Universitas Indonesia, 2014
TA-pdf
UI - Tugas Akhir Universitas Indonesia Library Neufelder, Ann Marie, author
New York: Marcel Dekker, 1993
005 NEU e
Buku Teks Universitas Indonesia Library
Gilb, Tom
New York: Addison-Wesley, 1988
005.1 GIL p
Buku Teks Universitas Indonesia Library
Bass, Len, author
Reading: Addison-Wesley, 1991
005.1 BAS d
Buku Teks Universitas Indonesia Library
Marciniak, John J., author
New York: Wiley, 1990
005.1 MAR s
Buku Teks Universitas Indonesia Library