Ditemukan 9926 dokumen yang sesuai dengan query
Berlin: Springer-Verlag, 1992
516.35 REA
Buku Teks Universitas Indonesia Library
Griffiths, Phillip, author
New York: John Wiley and Sons, 1978
516.35 GRI p (1)
Buku Teks Universitas Indonesia Library
Harris, Joe
New York: Springer-Verlag, 1992
516.35 HAR a
Buku Teks Universitas Indonesia Library
Akbulut, Selman
New York: Springer-Verlag, 1992
516.35 AKB t
Buku Teks Universitas Indonesia Library
Arapura, Donu, author
This book provides a rapid introduction to complex algebraic geometry. It covers sheaf theory, cohomology, some Hodge theory, as well as some of the more algebraic aspects of algebraic geometry. It combines the study of algebraic geometry with differential and complex geometry and unifies these subjects using sheaf-theoretic ideas...
New York: [, Springer Science], 2012
e20418978
eBooks Universitas Indonesia Library
This book is a short primer in engineering mathematics with a view on applications in nonlinear control theory. In particular, it introduces some elementary concepts of commutative algebra and algebraic geometry which offer a set of tools quite different from the traditional approaches to the subject matter. This text begins with...
Switzerland: Springer Nature, 2019
e20506217
eBooks Universitas Indonesia Library
In a detailed and comprehensive introduction to the theory of plane algebraic curves, the authors examine this classical area of mathematics that both figured prominently in ancient Greek studies and remains a source of inspiration and a topic of research to this day. Arising from notes for a course given...
Basel: Spinger, 2010
e20419878
eBooks Universitas Indonesia Library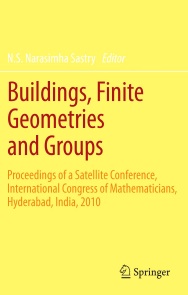 Sastry, N. S. Narasimha, editor
This is the proceedings of the ICM 2010 Satellite Conference on "Buildings, Finite Geometries and Groups" organized at the Indian Statistical Institute, Bangalore, during August 29 - 31, 2010. This is a collection of articles by some of the currently very active research workers in several areas related to finite...
New York: Spinger Science, 2012
e20420246
eBooks Universitas Indonesia Library
Holme, Audun, author
This book is about modern algebraic geometry. The book starts by explaining this enigmatic answer, algebraic geometry. From a point of departure in algebraic curves, the exposition moves on to the present shape of the field, culminating with Alexander Grothendieck's theory of schemes. Contemporary homological tools are explained...
New York: [, Springer-Verlag], 2012
e20418912
eBooks Universitas Indonesia Library
Cox, David A., author
New York: Springer-Verlag, 1992
516.35 COX i
Buku Teks Universitas Indonesia Library