Ditemukan 2997 dokumen yang sesuai dengan query
Brown, Kenneth S., author
New York: Springer-Verlag, 1982
512.22 BRO c
Buku Teks Universitas Indonesia Library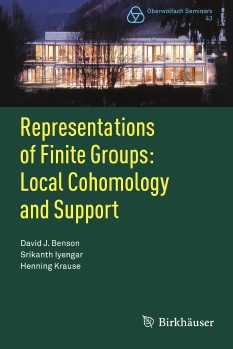 Benson, David J., author
This book presents the solution of a long-standing problem concerning the stable module category (of not necessarily finite dimensional representations) of a finite group. The proof draws on commutative algebra, cohomology of groups and stable homotopy theory. The unifying theme is a notion of support which provides a geometric approach...
Basel: [Spinger, ], 2012
e20419927
eBooks Universitas Indonesia Library
Hofmann, Karl H.
Berlin: VEB Deutscher Verlag, 1973
512.55 HOF c
Buku Teks Universitas Indonesia Library
Weyl, Hermann
[..]: Dover Publications, [th..]
512.86 WEY t
Buku Teks Universitas Indonesia Library
Machi, Antonio, author
Groups are a means of classification, via the group action on a set, but also the object of a classification. How many groups of a given type are there, and how can they be described? Hölder's program for attacking this problem in the case of finite groups is a sort...
Milan: Spinger-Verlag, 2012
e20420446
eBooks Universitas Indonesia Library
Vick, James W.
New York: Springer-Verlag , 1994
514.23 VIC h
Buku Teks Universitas Indonesia Library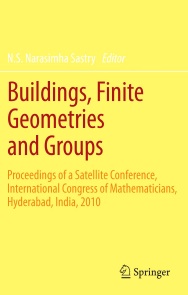 Sastry, N. S. Narasimha, editor
This is the proceedings of the ICM 2010 Satellite Conference on "Buildings, Finite Geometries and Groups" organized at the Indian Statistical Institute, Bangalore, during August 29 - 31, 2010. This is a collection of articles by some of the currently very active research workers in several areas related to finite...
New York: Spinger Science, 2012
e20420246
eBooks Universitas Indonesia Library
Stix, Jakob, editor
This book acknowledges the varied incarnations of the fundemental group, pro-finite, L-adic, p-adic, pro-algebraic and motivic. It explores a weaelth of topics that range from anabelian geometry (in particular the section conjecture), the L-adic polylogarithm, gonality questions of mudular curves, vector bundles in connection with monodromy, and relative pro-algebraic completions,...
Berlin: Spinger-Verlag, 2012
e20420582
eBooks Universitas Indonesia Library
Milewski, Emil G., author
Piscataway: Research and Education Association, 1989
512.2 MIL e
Buku Teks Universitas Indonesia Library
Baumslag, Benjamin
New York: McGraw-Hil Book Company, 1968
512.86 BAU s
Buku Teks Universitas Indonesia Library