Ditemukan 8548 dokumen yang sesuai dengan query
International Symposium on Algorithms and Computaion
Berlin: Springer-Verlag, 1994
005.1 ISA a
Buku Teks Universitas Indonesia Library
Raymond Chiong, editor
This book "Variants of Evolutionary Algorithms for Real-World Applications" aims to promote the practitioner's view on EAs by providing a comprehensive discussion of how EAs can be adapted to the requirements of various applications in the real-world domains. It comprises 14 chapters, including an introductory chapter re-visiting the fundamental question...
Berlin: [, Spinger-Verlag], 2012
e20418128
eBooks Universitas Indonesia Library
Generalized Assignment Problem (GAP) adalah masalah penugasan sehimpunan berhingga agen ke sehimpunan berhingga pekerjaan. Setiap pekerjaan mempunyai bobot dan setiap agen mempunyai kapasitas, sehingga setiap agen tidak dapat mengerjakan seluruh pekerjaan, tergantung kepada kapasitas yang dimiliki. Ada biaya yang harus dikeluarkan jika agen mengerjakan suatu pekerjaan. Pada skripsi ini akan...
Universitas Indonesia, 2006
S27630
UI - Skripsi (Membership) Universitas Indonesia Library
Ralf Klasing, editor
This book constitutes the refereed proceedings of the 11th International Symposium on Experimental Algorithms, SEA 2012, held Bordeaux, France, in June 2012. The 31 revised full papers presented together with 3 invited papers were carefully reviewed and selected from 64 submissions and present current research in the area of design,...
Berlin: [, Springer-Verlag], 2012
e20410472
eBooks Universitas Indonesia Library
Dion Ogi, author
Perkembangan teknologi prosesor seperti multicore menjadi bagian dari pengembangan HPC. Pengujian terhadap algoritma paralel dengan MPICH2 dan Cilk++ menggunakan variabel jumlah proses dan core diharapkan dapat menunjukkan perbedaan kinerja (waktu proses) yang signifikan. Analisis yang dilakukan pada hasil eksperimen menunjukkan implementasi algoritma paralel dengan MPICH2 memberikan speed-up hingga 5,987 pada perkalian...
Depok: Fakultas Teknik Universitas Indonesia, 2010
T 27918
UI - Tesis (Open) Universitas Indonesia Library
Contains 130 papers, which were selected based on originality, technical contribution, and relevance. Although the papers were not formally refereed, every attempt was made to verify the main claims. It is expected that most will appear in more complete form in scientific journals...
New York: ACM Press, 2001
e20449015
eBooks Universitas Indonesia Library
The papers in this volume were presented at the Twenty-First Annual ACM-SIAM Symposium on Discrete Algorithms, held January 17-19, 2010, in Austin, TX. The Symposium was jointly sponsored by the SIAM Activity Group on Discrete Mathematics and by SIGACT, the ACM Special Interest Group on Algorithms and Computation Theory...
Philadelphia: Society for Industrial and Applied Mathematics, 2010
e20443396
eBooks Universitas Indonesia Library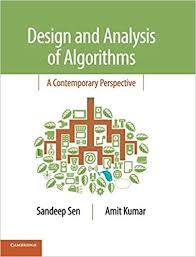 Sen, Sandeep, author
The text covers important algorithm design techniques, such as greedy algorithms, dynamic programming, and divide-and-conquer, and gives applications to contemporary problems. Techniques including Fast Fourier transform, KMP algorithm for string matching, CYK algorithm for context free parsing and gradient descent for convex function minimization are discussed in detail. The book's...
Cambridge: Cambridge University Press, 2019
005.1 SEN d
Buku Teks Universitas Indonesia Library
Jack Snoeyink, editor
This book constitutes the refereed proceedings of the 6th International Frontiers of Algorithmics Workshop, FAW 2012, and the 8th International Conference on Algorithmic Aspects in Information and Management, AAIM 2012, jointly held in Beijing, China, in May 2012. The 33 revised full papers presented together with 4 invited talks were...
Berlin: [, Springer-Verlag], 2012
e20410306
eBooks Universitas Indonesia Library
New Jarsey: John Wiley and Sons, 2011
R 518.1 ALG
Buku Referensi Universitas Indonesia Library