Ditemukan 6008 dokumen yang sesuai dengan query
Valentin, Luc, author
Amsterdam: North-Holland, 1981
539.7 VAL s
Buku Teks Universitas Indonesia Library
Valentin, Luc, author
Amsterdam: North-Holland, 1981
539.7 VAL s
Buku Teks Universitas Indonesia Library Weinberg, Steven, 1933-, author
New York: Scientific American Books, 1983
539.72 WEI d
Buku Teks Universitas Indonesia Library
Rebbi, Claudio, author
Singapore: World Scientific, 1984
539.721 REB s
Buku Teks Universitas Indonesia Library
New York: Gordon and Beach, science, 1967
523.01 HAU t II
Buku Teks Universitas Indonesia Library
Braibant, Sylvie, author
The book provides theoretical and phenomenological insights on the structure of matter, presenting concepts and features of elementary particle physics and fundamental aspects of nuclear physics. Starting with the basics (nomenclature, classification, acceleration techniques, detection of elementary particles), the properties of fundamental interactions (electromagnetic, weak and strong) are introduced with a...
Dordrecht: [Springer, ], 2012
e20424907
eBooks Universitas Indonesia Library
Soerjadi Raphael
Muntilan: Wiskundig ingenieur, 1986
519.3 SOE s
Buku Teks Universitas Indonesia Library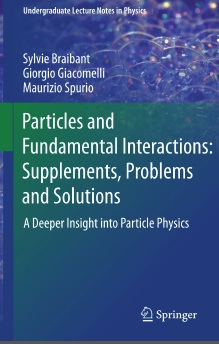 This volume is an exercises and solutions manual that complements the book "Particles and Fundamental Interactions" by Sylvie Braibant, Giorgio Giacomelli, and Maurizio Spurio. It aims to give additional intellectual stimulation for students in experimental particle physics. It will be a helpful companion in the preparation of a...
Dordrecht: Springer, 2012
e20424908
eBooks Universitas Indonesia Library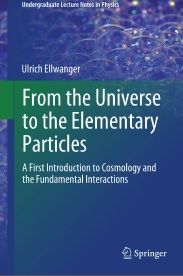 Ellwanger, Ulrich, author
In this book, the author leads the reader, step by step and without any advanced mathematics, to a clear understanding of the foundations of modern elementary particle physics and cosmology. He also addresses current and controversial questions on topics such as string theory. The book contains gentle introductions to the...
Berlin : [Springer, ], 2012
e20425098
eBooks Universitas Indonesia Library
This well-known introductory textbook gives a uniform presentation of nuclear and particle physics from an experimental point of view. The first part, Analysis, is devoted to disentangling the substructure of matter. This part shows that experiments designed to uncover the substructures of nuclei and nucleons have a similar conceptual basis, and...
Berlin: Springer-Verlag, 2015
e20510025
eBooks Universitas Indonesia Library