Ditemukan 12706 dokumen yang sesuai dengan query
Silverman, Mark P., author
Cambrdge: Cambridge University Press , 1993
530 SIL a
Buku Teks Universitas Indonesia Library
Zwerger, Wilhelm, editor
Recent experimental and theoretical progress has elucidated the tunable crossover, in ultracold Fermi gases, from BCS-type superconductors to BEC-type superfluids. This book is a collaborative effort by leading international experts to provide an up-to-date introduction and a comprehensive overview of current research in this fast-moving field. It is now understood...
Berlin : [Spinger-Verlag, ], 2012
e20425357
eBooks Universitas Indonesia Library Singapore: World Scientific, 1990
530.15 ITA
Buku Teks Universitas Indonesia Library
Operator evolusi waktu merupakan pembawa dinamika dalam mekanika kuantum. Keadaan stasioner suatu partikel mengakibatkan bahwa fungsi gelombangnya dapat dipisahkan dengan separasi variabel. Secara analitik faktor dinamika seringkali dihilangkan karena keterbatasan kemampuan penghitungan. Dengan bantuan komputer posisi dan dinamika partikel dapat digambarkan secara utuh melaui penyelesaian persamaan schrodinger gayut waktu. Untuk...
JURFIN 10:30 (2006)
Artikel Jurnal Universitas Indonesia Library
Broglie, Louis de
New York : The Noonday Press, 1953
530.1 BRO r
Buku Teks Universitas Indonesia Library
Richtmyer, F.K.
New York: McGraw-Hill, 1955
539 RIC i
Buku Teks Universitas Indonesia Library
Margenau, Henry, author
New Jersey: D. Van Nostrand, 1965
530.15 MAR m
Buku Teks Universitas Indonesia Library Joshi, A.W., author
New Delhi: Wiley Eastern, 1984
530.122 JOS m
Buku Teks Universitas Indonesia Library
Scherer, Philipp O.J., author
This textbook presents basic numerical methods and applies them to a large variety of physical models in multiple computer experiments. Classical algorithms and more recent methods are explained. Partial differential equations are treated generally comparing important methods, and equations of motion are solved by a large number of simple as...
Switzerland: Springer Nature, 2017
e20509966
eBooks Universitas Indonesia Library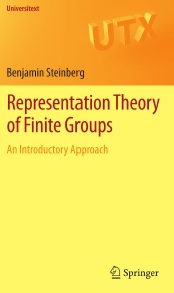 This book presents group representation theory at a level accessible to advanced undergraduate students and beginning graduate students. It can also be used as a reference for academics working in all areas of mathematics and statistic...
New York: [Spinger Science, ], 2012
e20419158
eBooks Universitas Indonesia Library