Ditemukan 8005 dokumen yang sesuai dengan query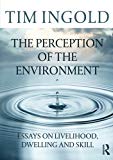 Ingold, Tim, 1948-, author
The twenty-three essays comprising this book focus in turn of the procurement of livelihood, on what it means to 'dwell', and on the nature of skill, weaving together approaches from social anthropology, ecological psychology, developmental biology and phenomenology in a way that has never been attempted before. The book is...
New York: Routledge, 2000
301.01 ING p
Buku Teks Universitas Indonesia Library
Whatmore, Sarah, author
London: Sage, 2003
304.2 WHA h
Buku Teks Universitas Indonesia Library
Diez-Hochleitner, Ricardo, author
Contents Travel, orientalism, and East-West dialogue in Adam Mickiewicz's sonnets -- Polish nineteenth-century travel to the Orient : scholarship, poetry, politics -- Empire in the background : Russian oriental travel from Crimea to the Holy Land -- Aleksandr Pushkin's Caucasian cycle : from the Orient back to Russia. ...
London ; New York : I.B. Tauris, 2008
304.2 DIE d
Buku Teks Universitas Indonesia Library
Rigg, Jonathan, 1959-, author
New York: Routledge, 1997
330.959 RIG s (2)
Buku Teks Universitas Indonesia Library
McLaurin, Brett T., author
The holocene is unique when compared to earlier geological time in that humans begin to alter and manipulate the natural environment to their own needs. Interconnected aspects of the environment and involves geomorphology, paleoecology, geoarchaeology and paleoclimatology. These Springer Briefs volumes examine the dynamic interplay between humans and the...
Heidelberg : Spinger, 2012
e20405765
eBooks Universitas Indonesia Library
Ni Ketut Supasti Dharmawan, author
Tourism activities in era globalization bring positive and negative impacts especially for the host countries destination. To minimize the negative impacts it is very important to always promote the sustainable development of tourism including from a human rights perspective. This paper will discuss concerning who have responsibility to promote a...
University of Indonesia, Faculty of Law, 2012
pdf
Artikel Jurnal Universitas Indonesia Library
Francis, Robert A., author
London: Routledge, 2013
307.76 FRA u
Buku Teks Universitas Indonesia Library Roper, Nancy
New York: Churchill Livingstone , 1976
612 ROP m
Buku Teks Universitas Indonesia Library
Robbins, Paul, author
United Kingdom: Wiley-Blackwell, 2010
333.72 ROB e
Buku Teks Universitas Indonesia Library
Silverthorn, Dee Unglaub, author
San Francisco: Pearson, Benjamin Cummings, 2010
611.018 SIL h
Buku Teks Universitas Indonesia Library