Ditemukan 2240 dokumen yang sesuai dengan query
Scholes, Percy A., author
Oxford: Oxford University Press, 1933
R 780.3 SCH o
Buku Referensi Universitas Indonesia Library
Oxford: Oxford University Press , 1992
R 792 CON
Buku Referensi Universitas Indonesia Library
Walker, David M., author
Oxford: Clarendon Press, 1980
R 340.03 Wal o
Buku Referensi Universitas Indonesia Library
Oxford University press , 1994
Buku Teks Universitas Indonesia Library
New York: Oxford Univesity Press, 1994
R 423 AUS
Buku Referensi Universitas Indonesia Library
Oxford: Blackwell Publishing, 2008
829 COM
Buku Teks Universitas Indonesia Library New York: Mentor book, 1956
R 803 REA (1)
Buku Referensi Universitas Indonesia Library
"This diverse collection of essays represents the most recent critical thinking concerning the philosophical study of literature. Contributed by an international team of eminent scholars drawn from the fields of both literature and philosophy. the great majority of essays are newly commissioned for this volume. supplemented by a few indispensable...
Hoboken : Wiley Balckwell, 2010
801 COM
Buku Teks Universitas Indonesia Library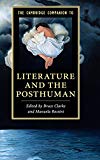 Cambridge : Cambridge University Press, 2017
809.933 CAM
Buku Teks Universitas Indonesia Library
Summary: This wide-ranging Companion provides a vital overview of modern Chinese literature in different geopolitical areas, from the 1840s to now. It reviews major accomplishments of Chinese literary scholarship published in Chinese and English and brings attention to previously neglected, important areas. Offers the most thorough and concise coverage of modern...
Chichester, West Sussex: Wiley Blackwell, 2016
895.109 COM
Buku Teks Universitas Indonesia Library