Found 32 Document(s) match with the query katakunci: "particles"
Jennings, Elise, author
A major outstanding problem in physics is understanding the nature of the dark energy that is driving the accelerating expansion of the Universe. This thesis makes a significant contribution by demonstrating, for the first time, using state-of-the-art computer simulations, that the interpretation of future galaxy survey measurements is far more...
Berlin : [Spinger-Verlag, ], 2012
e20424918
eBooks Universitas Indonesia Library
Hajime, Ishimori, author
These lecture notes provide a tutorial review of non-Abelian discrete groups and show some applications to issues in physics where discrete symmetries constitute an important principle for model building in particle physics. While Abelian discrete symmetries are often imposed in order to control couplings for particle physics, in particular...
Berlin : [Spinger-Verlag, ], 2012
e20425303
eBooks Universitas Indonesia Library
Mottram, Matthew Joseph, author
The winner of UCL's annual HEP thesis prize, this work describes an analysis of the data from the second flight of the Antarctica Impulsive Transient Antenna (ANITA). ANITA is a balloon-borne experiment that searches for radio signals originating from ultra-high energy neutrinos and cosmic rays interacting with the Antarctic ice...
Berlin: Spinger-Verlag, 2012
e20425402
eBooks Universitas Indonesia Library Trusti Dian Susanti, author
Pajanan partikulat dapat menyebabkan gangguan kesehatan pada sistem pernapasan dan kardiovaskular serta kematian. Tujuan penelitian ini mengetahui konsentrasi pajanan partikulat di PKB Cilincing. Pengambilan data dilakukan dengan mengukur pajanan personal pada petugas uji mekanis dan area pada kantor dan pengujian. Rata-rata konsentrasi pajanan personal PM10, PM2.5, PM1, PM0.25 pada petugas...
Depok: Universitas Indonesia, 2017
S69392
UI - Skripsi (Membership) Universitas Indonesia Library Yudha Adi Candra, author
ABSTRAK
Penelitian ini merupakan penelitian lanjutan tentang partikel an berdasarkan hubungan antarklausa dan makna gramatikal dalam bahasa Jawa Kuno yang belum dilakukan oleh Uhlenbeck 1986, Zoetmulder dan Poedjawijatna 1993. Penelitian ini dilakukan untuk mengetahui bagaimana fungsi partikel an dan tipologi kalimat berbahasa Jawa Kuno pada teks ? ?diparwa. Meskipun sumber data...
2018
S-Pdf
UI - Skripsi (Membership) Universitas Indonesia Library
Winda Wardatul Jannah, author
Kristal TiO2 anatase dipreparasi dengan proses hidrotermal pada suhu 240°C dari prekursor titanium tetraisopropoksida (TTIP) dalam larutan alkohol/air pada suasana asam. TiO2 hasil sintesis dikarakterisasi dengan X-Ray Diffractometer (XRD), Diffuse Reflectance Spectrophotometry (DRS), Particle Size Analyzer (PSA) dan Fourier Transform Infra Red Spectrophotometry (FTIR). Hasil karakterisasi menunjukkan bahwa TiO2 yang...
Depok: Fakultas Matematika dan Ilmu Pengetahuan Alam Universitas Indonesia, 2010
S30714
UI - Skripsi (Open) Universitas Indonesia Library
Braibant, Sylvie, author
The book provides theoretical and phenomenological insights on the structure of matter, presenting concepts and features of elementary particle physics and fundamental aspects of nuclear physics. Starting with the basics (nomenclature, classification, acceleration techniques, detection of elementary particles), the properties of fundamental interactions (electromagnetic, weak and strong) are introduced with a...
Dordrecht: [Spinger Science, ], 2012
e20424907
eBooks Universitas Indonesia Library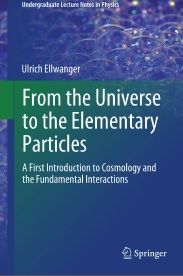 Ellwanger, Ulrich, author
In this book, the author leads the reader, step by step and without any advanced mathematics, to a clear understanding of the foundations of modern elementary particle physics and cosmology. He also addresses current and controversial questions on topics such as string theory. The book contains gentle introductions to the...
Berlin : [Spinger-Verlag, ], 2012
e20425098
eBooks Universitas Indonesia Library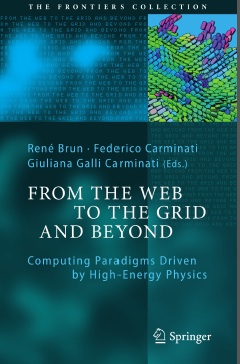 Brun, Rene, editor
This book is the first comprehensive account to trace the history of this pioneering spirit in the field of computing technologies. It covers everything up to and including the present-day handling of the huge demands imposed upon grid and distributed computing by full-scale LHC operations—operations which have for years involved...
Berlin : [, Spinger-Verlag], 2012
e20425100
eBooks Universitas Indonesia Library
Khlopov, Maxim, author
This book guides readers (astronomers, physicists, and university students) through central questions of Practical Cosmology, a term used by the late Allan Sandage to denote the modern scientific endeavor to find the cosmological model best describing the universe of galaxies, its geometry, size, age, and matter composition. The authors draw...
Dordrecht: [, Spinger], 2012
e20425105
eBooks Universitas Indonesia Library