Ditemukan 130 dokumen yang sesuai dengan query
Marghitu, Dan B., author
This book provides a thorough, rigorous presentation of kinematics and dynamics while using MATLAB as an integrated tool to solve problems. Topics presented are explained thoroughly and directly,allowing fundamental principles to emerge through applications from areas such as multibody systems, robotics, spacecraft and design of complex mechanical devices. This book...
New York: [, Springer], 2012
e20410757
eBooks Universitas Indonesia Library
King, Alan J., author
While there are several texts on how to solve and analyze stochastic programs, this is the first text to address basic questions about how to model uncertainty, and how to reformulate a deterministic model so that it can be analyzed in a stochastic setting. This text would be suitable as...
New York: [, Springer], 2012
e20418916
eBooks Universitas Indonesia Library
This our material is divided into three main chapters followed by a postscript. These cover elementary number theory, calculus of one and several variables, introductory linear algebra, and visualization and interactive geometric computation...
New York: Springer Science;, 2012
e20419008
eBooks Universitas Indonesia Library
Numerical Analysis explores computational methods for problems arising in the areas of classical analysis, approximation theory, and ordinary differential equations, among others. Topics included in the book are presented with a view toward stressing basic principles and maintaining simplicity and teachability as far as possible, while subjects requiring a higher...
New York: Springer, 2012
e20419019
eBooks Universitas Indonesia Library
Formaggia, Luca, author
This book stems from the long standing teaching experience of the authors in the courses on Numerical methods in engineering and numerical methods for partial differential equations given to undergraduate and graduate students of Politecnico di Milano (Italy), EPFL Lausanne (Switzerland), University of Bergamo (Italy) and Emory University (Atlanta, USA)....
Milan: [Springer-Verlag, ], 2012
e20419490
eBooks Universitas Indonesia Library
Kunze, Herb, author
Fractal-based methods are at the heart of modeling the behavior of phenomena at varying scales. This volume collates techniques for using IFS fractals, including the very latest cutting-edge methods, from more than 20 years of research in this area. The second chapter on basic iterated function systems theory is designed...
New York: [Springer, ], 2012
e20419533
eBooks Universitas Indonesia Library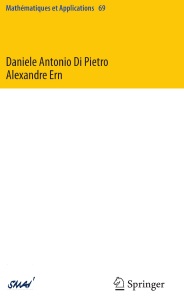 Pietro, Daniele Antonio Di, author
This book introduces the basic ideas to build discontinuous Galerkin methods and, at the same time, incorporates several recent mathematical developments. The material covers a wide range of model problems, both steady and unsteady, elaborating from advection-reaction and diffusion problems up to the Navier-Stokes equations and Friedrichs' systems. Both finite...
Berlin: [Springer, ], 2012
e20419986
eBooks Universitas Indonesia Library
Leugering, Gunter, author
This volume focuses on optimization and control of processes governed by partial differential equations. It is organized in sections which cover almost the entire spectrum of modern research in this emerging field...
Basel: Springer, 2012
e20420323
eBooks Universitas Indonesia Library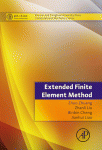 Zhuo, Zhuang, author
Extended finite element method provides an introduction to the extended finite element method (XFEM), a novel computational method which has been proposed to solve complex crack propagation problems. The book helps readers understand the method and make effective use of the XFEM code and software plugins now available to model...
Oxford, UK: Academic Press, 2014
e20427070
eBooks Universitas Indonesia Library
Rude, Ulrich, author
Multilevel adaptive methods play an increasingly important role in the solution of many scientific and engineering problems. Fast adaptive methods techniques are widely used by specialists to execute and analyze simulation and optimization problems. This monograph presents a unified approach to adaptive methods, addressing their mathematical theory, efficient algorithms, and...
Philadelphia: Society for Industrial and Applied Mathematics, 1993
e20450247
eBooks Universitas Indonesia Library