Ditemukan 74 dokumen yang sesuai dengan query
Ramnath, Rudrapatna V., author
Heidelberg : [Spinger, ], 2012
e20398119
eBooks Universitas Indonesia Library
Snygg, John, author
Differential geometry is the study of the curvature and calculus of curves and surfaces. A New Approach to differential geometry using Clifford's geometric algebra simplifies the discussion to an accessible level of differential geometry by introducing Clifford algebra. This presentation is relevant because Clifford algebra is an effective tool for...
New York: [, Springer Science], 2012
e20418895
eBooks Universitas Indonesia Library
Sonnet, Andre M., author
This is a book on the dissipative dynamics of ordered fluids, with a particular focus on liquid crystals. It covers a whole range of different theories, mainly concerned with nematic liquid crystals in both their chiral and nonchiral variants. The authors begin by giving a detailed account of the molecular...
New York: [, Spinger Science], 2012
e20418907
eBooks Universitas Indonesia Library
Zemyan, Stephen M., author
This book offers a thorough, concise, and rigorous treatment of the essential aspects of the theory of integral equations. Includes nearly 300 exercises specifically constructed to enhance the understanding of both routine and challenging concepts. Included in the presentation are, a section entitled Tools of the Trade at the beginning...
New York: Spinger Science, 2012
e20419043
eBooks Universitas Indonesia Library
This textbook takes a broad yet thorough approach to mechanics, aimed at bridging the gap between classical analytic and modern differential geometric approaches to the subject.​ Developed by the author from 35 years of teaching experience, the presentation is designed to give students an overview of the many different models...
New York: [Spinger Science, ], 2012
e20419047
eBooks Universitas Indonesia Library
The book covers several topics of current interest in the field of nonlinear partial differential equations and their applications to the physics of continuous media and particle interactions. It treats the quasigeostrophic equation, integral diffusions, periodic Lorentz gas, Boltzmann equation, and critical dispersive nonlinear Schrödinger and wave equations. The book...
Basel: Spinger, 2012
e20420511
eBooks Universitas Indonesia Library
Combescure, Monique, author
This book presents the various types of coherent states introduced and studied in the physics and mathematics literature and describes their properties together with application to quantum physics problems. It is intended to serve as a compendium on coherent states and their applications for physicists and mathematicians, stretching from the...
Dordrecht: [Spinger Science, ], 2012
e20425049
eBooks Universitas Indonesia Library
Hajime, Ishimori, author
These lecture notes provide a tutorial review of non-Abelian discrete groups and show some applications to issues in physics where discrete symmetries constitute an important principle for model building in particle physics. While Abelian discrete symmetries are often imposed in order to control couplings for particle physics, in particular...
Berlin : Spinger-Verlag, 2012
e20425303
eBooks Universitas Indonesia Library
Henkel, Malte, editor
This volume sharpens our picture of the applications of conformal invariance, introducing non-local observables such as loops and interfaces before explaining how they arise in specific physical contexts. It then shows how to use conformal invariance to determine their properties. Moving on to cover key conceptual developments in conformal invariance,...
Berlin: Spinger-Verlag, 2012
e20425391
eBooks Universitas Indonesia Library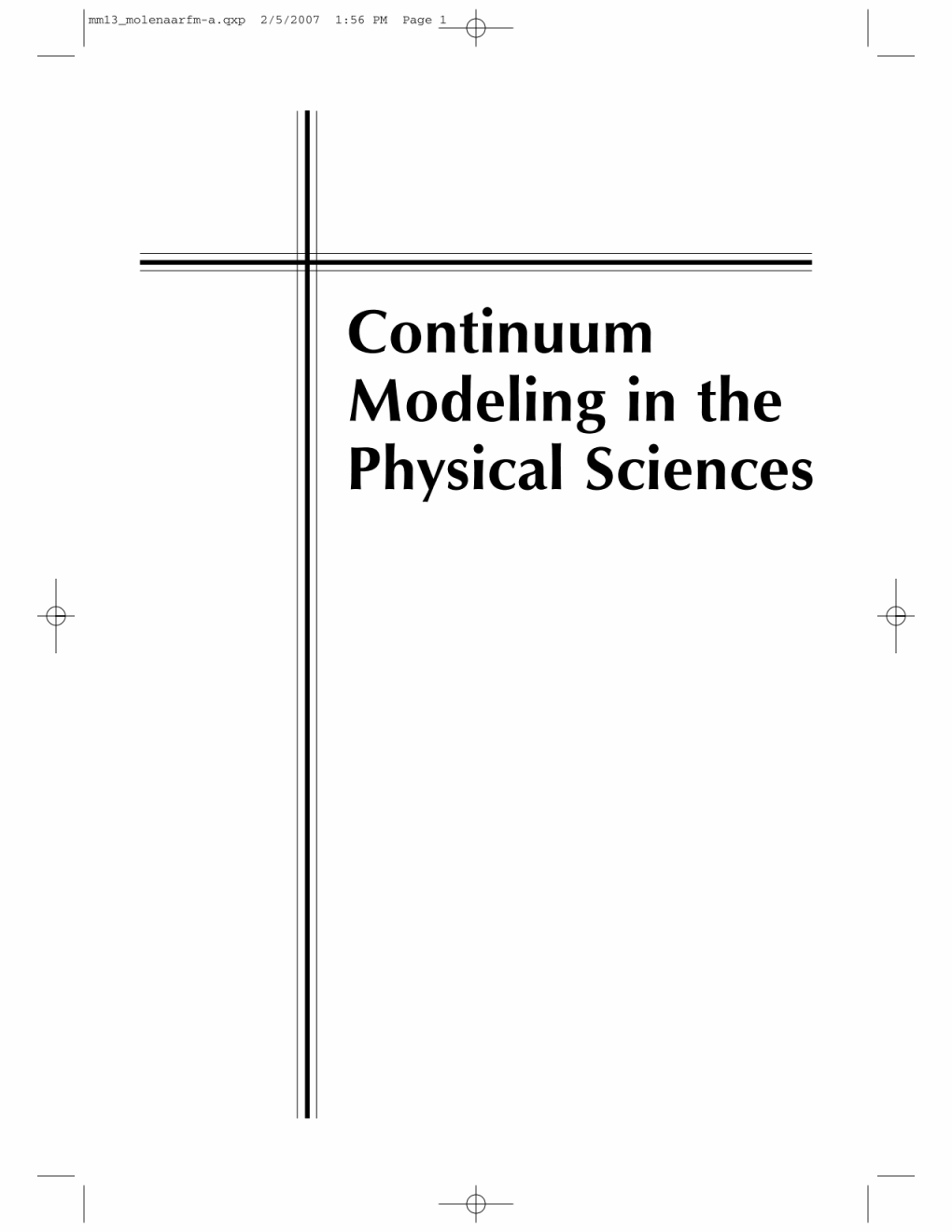 van Groesen, E., author
Mathematical modeling he ability to apply mathematical concepts and techniques to real-life systems as expanded considerably over the last decades, making it impossible to cover all of its aspects in one course or textbook. Continuum Modeling in the Physical Sciences provides an extensive exposition of the general principles and methods...
Philadelphia: Society for Industrial and Applied Mathematics, 2007
e20448765
eBooks Universitas Indonesia Library