Ditemukan 531 dokumen yang sesuai dengan query
Quesada, Robert, author
Upper Saddle River, New Jersey: Pearson Prentice Hall, 2005
621.9023 QUE c
Buku Teks Universitas Indonesia Library
Riana Listanti, author
Kacang koro sangat potensial sebagai pendukung ketahanan pangan dan diversifikasi pangan. Permasalahan dalam upaya diversifikasi olahan koro adalah pada proses pengupasan biji koro yang masih menggunakan cara manual sehingga membutuhkan waktu yang cukup lama. Tujuan dalam penelitian ini adalah merancang bangun prototipe mesin penyosoh kacang koro sehingga kacang koro dapat...
Purwokerto: Universitas Jenderal Soedirman. Fakultas Pertanian, 2016
630 AGRIN 20:2 (2016)
Artikel Jurnal Universitas Indonesia Library
Kohavi, Zvi, author
New Delhi: Tata McGraw-Hill, 1982
511.35 KOH a
Buku Teks Universitas Indonesia Library
Goodfellow, Ian, author
"Deep learning is a form of machine learning that enables computers to learn from experience and understand the world in terms of a hierarchy of concepts. Because the computer gathers knowledge from experience, there is no need for a human computer operator to formally specify all the knowledge that the...
Cambridge, Massachusetts: The MIT Press, 2016
006.31 GOO d
Buku Teks Universitas Indonesia Library
Written by leading researchers, this complete introduction brings together all the theory and tools needed for building robust machine learning in adversarial environments. Discover how machine learning systems can adapt when an adversary actively poisons data to manipulate statistical inference, learn the latest practical techniques for investigating system security and...
Cambridge: Cambridge University Press, 2019
006.31 ADV
Buku Teks Universitas Indonesia Library
Albon, Chris, author
With Early Release ebooks, you get books in their earliest form--the author's raw and unedited content as he or she writes--so you can take advantage of these technologies long before the official release of these titles. You'll also receive updates when significant changes are made, new chapters are available, and...
Beijing: O'Reilly, 2018
006.31 ALB m
Buku Teks Universitas Indonesia Library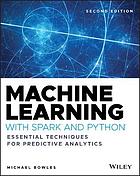 Bowles, Michael, author
Machine learning focuses on predition-- using what you know to predict what you would like to know based on historical relationships between the two. At its core, it's a mathematical/algorithm-based technology that, until recently, required a deep understanding of math and statistical concepts, and fluency in R and other specialized...
Indianapolis: Wiley, 2020
006.31 BOW m
Buku Teks Universitas Indonesia Library
Irwansyah Sutandar, author
Depok: Fakultas Ekonomi dan Bisnis Universitas Indonesia, 1992
T-Pdf
UI - Tesis (Membership) Universitas Indonesia Library
Youssef Hamadi, editor
This book constitutes the thoroughly refereed post-conference proceedings of the 6th International Conference on Learning and Intelligent Optimization, LION 6, held in Paris, France, in January 2012. The 23 long and 30 short revised papers were carefully reviewed and selected from a total of 99 submissions. The papers focus on...
Berlin: Springer, 2012
e20406981
eBooks Universitas Indonesia Library
Haug, Edward J., author
New York: Wiley, 1979
620.004 2 HAU a
Buku Teks Universitas Indonesia Library