Ditemukan 126 dokumen yang sesuai dengan query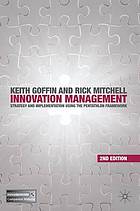 Goffin, Keith, author
Summary: Designed primarily for students on MBA and executive education courses, this practical text uses a 'pentathlon' framework for discussing key issues. The authors provide pragmatic tools for the effective management of innovation and develop strategies for improving performance in both service and manufacturing companies...
Basingstoke: Palgrave Macmillan, 2010
658.406 GOF i
Buku Teks Universitas Indonesia Library
Artikel Jurnal Universitas Indonesia Library
Kissler, Gary D., author
New York: Addison-Wesley, 1991
R 658.4 KIS c
Buku Referensi Universitas Indonesia Library
Payne, Vivette, author
Coach employees to ensure maximum performance, motivation and retention. Following a seven-step coaching process, Coaching for High Performance gives managers the tools to help their people excel at their jobs and meet competitive challenges with confidence. This book teaches managers how to communicate performance expectations, assess employee skill levels, establish...
New York: [American Management Association;, ], 2005
e20437154
eBooks Universitas Indonesia Library
Boston, MA: Harvard Business Review Press, 2011
658.406 HBR
Buku Teks Universitas Indonesia Library
Sadangi, Chandan Kumar, author
Change management is a better or smarter approach to initiate a change via behavioral aspects. As it is the power to innovate which is a unique strength for companies, the need for strategies to tackle change management within the firm is evident...
United Kingdom: Emerald, 2017
e20469577
eBooks Universitas Indonesia Library
Russell, Jeffrey, author
A single reference source for understanding, leading, and managing the change process to skillfully translate vision into results. Change Basics will enable you to skillfully introduce and manage change. With an essential background on reasons for initial resistance and an analysis of possible outcomes, it provides specific strategies to counter opposition...
Alexandria, Virginia: American Society for Training & Development, 2006
e20441222
eBooks Universitas Indonesia Library
Blarr, W. Henning, author
[Today's companies in diverse industries perceive increasing competition and an accelerating pace of change. To cope with these challenges, they need to leverage their current competencies and exploit existing products and services, while simultaneously build new capabilities to develop innovative solutions. Therefore, instead of selecting and maintaining a focus on...
Wiesbaden: [Gabler Verlag, ], 2012
e20397198
eBooks Universitas Indonesia Library
Linder, Jane C., author
Maybe the reason so many well-intentioned management initiatives fall short is because typical "best practice" methods only help managers avoid failure, rather than produce genuinely spectacular results. Jane Linder proposes a new way of managing. From developing a virtual reality simulator for underwater mining equipment to saving an Ohio oil...
New York: American Management Association, 2008
e20441383
eBooks Universitas Indonesia Library
Vukotich, George, author
Table of contents : - Preface - Introduction - Step one: understand change - Step two: assess the impact of change - Step three: assemble a change management team - Step four: build a vision for change - Step five: put a change strategy in...
Alexandria, Virginia: American Society for Training & Development, 2011
e20442048
eBooks Universitas Indonesia Library